Reviews of noteworthy books on Christ and culture. New reviews are posted each week.

Book Reviews
Our most recent book review is featured below. This and all of our reviews may be found in the Comprehensive Index of Book Reviews.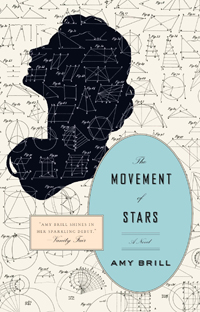 Amy Brill, The Movement of Stars (New York: Riverhead Books, 2013), 448pp.
By Debie Thomas
The year is 1845, and Hannah Price, a young Quaker woman growing up in Nantucket, dreams of discovering a comet. Hoping to earn a prize from the King of Denmark, and make a place for herself in the male-dominated world of astronomy, she spends her nights on the rooftop porch of her father's house, her telescope pointed at the heavens. By day, however, she chafes under the strict discipline of her religious community, and struggles with the knowledge that she can only indulge her passion for astronomy if the men in her life — her father, her brother, and her family friends — support her. But when Isaac Martin, an ambitious black whaler from the Azores, appears at her doorstep, asking for navigation lessons, Hannah finds herself falling in love, and her intellectual and moral dilemmas intensify. In prose that is clear and uncluttered, Amy Brill's debut novel raises provocative questions about race, gender, and religious belief, and powerfully portrays the frustration of a woman who longs to pursue her own intellectual interests in the face of opposition. Though the plot drags a bit at times, and Brill's writing tends to "tell" more than "show," The Movement of Stars is a worthwhile read — a smart fictionalization of the life of Maria Mitchell, the pioneer American astronomer who inspired this novel.