World AIDS Day 2010: Universal Access and Human Rights
A guest essay by Art Ammann, the former Director of the Pediatric Immunology and Clinical Research Center at the University of California Medical Center in San Francisco. In the summer of 1981, Ammann cared for a woman who was a prostitute and intravenous drug user and three of her children. All four presented with unusual deficiencies in their immune systems that were aggravated by opportunistic infections that did not fit normal medical models of disease. He determined that the mother and all three children had contracted AIDS, a tragic diagnosis because the disease was at that time fatal. Perhaps equally devastating was the disturbing conclusion, hotly contested and very controversial at the time, that HIV-AIDS was not limited to adults. Ammann determined that HIV had passed from the mother to her children as an "acquired" and not an "inherited" disease. In 1982, he thus documented the first cases of AIDS transmission from mother to infant, and also the first blood transfusion AIDS patients.
In 1998 Ammann founded Global Strategies for HIV Prevention, where today he ministers around the world. With a special focus on women and children, Global Strategies implements international strategies to prevent HIV infection and to work toward "a generation free of HIV."
For Sunday December 5, 2010
Second Sunday in Advent
Lectionary Readings (Revised Common Lectionary, Year A)
Isaiah 11:1–10
Psalm 72:1–7, 18–19
Romans 15:4–13
Matthew 3:1–12
On World AIDS Day I am going to the movies. Not an actual movie theater but an auditorium where I will see the newest DVD on the ravages of the AIDS epidemic. This year the World AIDS Day theme is Universal Access and Human Rights. I haven't seen any trailers but surely there will be numbers that document the severity of the worldwide HIV epidemic, which now numbers in the tens of millions. Few of us can comprehend the difference between 20 million and 30 million who suffer from this disease. Numbers about the HIV epidemic, like numbers about the national debt, blur into insignificance unless they affect us personally.
After the numbers are presented there will be an array of graphic details and I will find my emotional senses assaulted by viewing emaciated figures — caricatures of the wasting disease of advanced AIDS. I will also listen to women who tell stories of how they acquired HIV against their will through sexual violence. I am also likely to see a child, malnourished with large pleading eyes, that is meant to represent the 15 million orphans and vulnerable children who have difficulty getting education, finding clothing, food, shelter and, if they are infected, getting the life-saving drugs that can bring HIV infection under control. When the movie ends, the lights will come on and in the somberness of the moment an individual will lean towards me and say, "Wow, that was moving," or, "How terrible it must be for those people."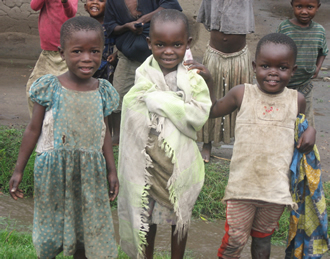 Several months ago I listened to a Ken Meyers Mars Hill Audio interview with David Thompson, author of the book The Moment of Psycho about Alfred Hitchcock's shocker movie Psycho. It is considered to be the movie that paved the way to the excesses of violence in the media that we witness today. The discussion focused on whether Psycho and the movies that followed had a role in compromising our response to evil. It was pointed out that Psycho was the first widely viewed movie that allowed us to view evil and then to walk away from it.
Meyers and Thompson pointed out that we could now be voyeurs in the world's most extreme tragedies and miseries. "Hitchcock was saying that he would show you something and you could watch it but there was nothing you could do about it — if you were to see that thing in real life you would be expected to intervene — to rescue the victim."
Thompson declared, "Let's put it this way — you see people starving in Darfur and you pass on and you say, yes there are people starving in places like that, and eventually we become hardened to it, but if we become detached from it, if we are just an audience, then it becomes easier for people to do terrible things."
It is true that we are all increasingly brought into the world of suffering through multimedia that invites us to see but does not allow us to participate. Yet watching versus participating is the basis of a real moral dilemma.
Jesus did not ask for voyeurs. Nor did he use movies or DVDs or even graphic descriptions of the poor, the starving and the suffering. He did not attempt to shock his followers into action. Nor did Jesus need to remind his followers of the dire consequences of poverty and abandonment. He simply acknowledged that it existed and that it was an obligation of his followers to do something about it.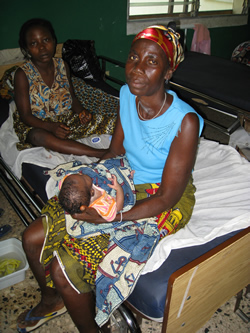 I believe that Jesus knew that he had to say it only once and those who followed him had to make the decision whether they would put his teaching into action. When he spoke in the temple in Nazareth, reading from the prophet Isaiah, he was clear as to his purpose. "The Spirit of the Lord is on me, because he has anointed me to preach good news to the poor. He has sent me to proclaim freedom for the prisoners and recovery of sight for the blind, to release the oppressed, to proclaim the year of the Lord's favor." The Apostle Paul also knew that we could not be voyeurs when he said, "Do not be overcome with evil but overcome evil with good."
On World AIDS Day, or any other day for that matter, regardless of what we see or hear, a decision needs to be made whether we incorporate a part of the suffering of the world into our daily practice of living. Seeing evil and not making an attempt to overcome it is not a "movie" ending for those of us who believe in the teaching of Jesus.
---
Image credits: (1–4) Art Ammann.