The Grace of Bewilderment
First Sunday in Lent 2010
A guest essay by Rebecca Lyman. Rebecca is the Garrett Professor of Church History emerita from The Church Divinity School of the Pacific, Berkeley, and an Episcopal priest. She has written various books and articles on ancient Christianity, and lives with her husband and children in Woodside, CA. Raised in the Midwest, she has a particular interest in landscape and spirituality.
For Sunday February 21, 2010
Lectionary Readings (Revised Common Lectionary, Year C)
Deuteronomy 26:1–11
Psalm 91:1–2, 9–16
Romans 10:8b–13
Luke 4:1–13
In his book The Wild Places, Robert Macfarlane describes his journey to explore the last pieces of wilderness left along the fringes of the British Isles. Centuries of settlement and industrialization have domesticated most land, so he pushed himself out to Scottish islands and the top of Welsh mountains. The result of this experience was not what he anticipated: "My early vision of a wild place as somewhere remote, history less, unmarked, now seemed improperly partial… I had learned to see another type of wildness to which I had once been blind: the wildness of natural life, the sheer force of ongoing organic existence, vigorous and chaotic… not about asperity, but about luxuriance, vitality, fun. The weed in the crack of the pavement…(was) a wild sign." 1 The search for wilderness set apart paradoxically opened his eyes to the common presence of nature everywhere underfoot.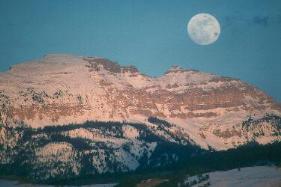 Our modern attraction to wilderness is often the heightening and clarification of self through natural beauty in the absence of civilization, but in the Bible wilderness is not a national park, but a place of isolation and death. Infested with demons and seemingly without God, this untamed and unknown place was entered only at great risk. To be in the "wild" is where one can become lost and die. This is the root of our word "bewildered," which goes back to the physical and emotional state of being lost.
In the lethal hall of mirrors described in the Gospel of Luke, the devil tempts Jesus in extremity only to claim what is rightfully his as a beloved of God: food, authority, safety. When Jesus quotes scripture in reply, perhaps he is not the clever rabbi, but rather the lost child who clings to the only presence of God in this dreadful place, the internalized Word of the Spirit that pleads for us when we cannot. Luke tells us that Jesus returned "in the power of the Spirit" to begin his ministry.
Given his fondness for natural images of the luxuriance of lilies and the vitality of grass, perhaps Jesus' experience in the wilderness opened his eyes to the unity between the liminal and the ordinary: the renewing presence of God which shatters our divisions of sacred and secular, pure and profane, life and death. The gift of faithfulness from the wilderness to Jesus was not a heroic will, but the confident freedom of dwelling with the sparrows, the lilies, the beggars, and the brides in God's love, come what may.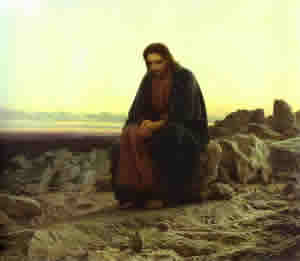 Our forty days of Lent begin and end in a wilderness, from the dialogue with the devil to the final bewildering triad of betrayal at the last supper, fear in the garden, and loneliness on the cross. Western institutional religion for good reason domesticated wilderness spirituality. The Rule of Benedict was especially written to prevent individual heroics and failures; lives of the desert saints were collected as a sort of spiritual safari to view the marvels of the resident big game hunters. When at the Reformation lay people finally got their hands on the Bible, holy wisdom became encased in preaching and morality. Yet, no system protects us from life.
As Macfarlane discovered in returning from the wilderness to the sidewalk, we live daily in the midst of the same vitality, unpredictability, and regeneration of natural life. We can be lost and found or live or die anywhere. We dwell in a wilderness, but we are not alone. The best spiritual practices do not ultimately separate us from our world, but only separate us from our habits and assumptions that cause us to limit or doubt the divine presence. Finding God in the wilderness is finding God precisely everywhere we are afraid or lost.
Just as ecologists have reframed our definitions of a separate romantic wilderness toward a broader care of all nature, so current trends in spirituality have reframed practices of sacred separation to open our eyes to the presence of God in the ordinary all around us. As Wes Jackson commented in defense of loving Kansas, "Either all the earth is holy or none is. Either every square foot of it deserves our respect or none does."2
Bewilderment then can be an excellent preparation for Holy Week, our yearly collective meditation on why bad things happen to good people and how we can possibly embrace events we do not chose or understand. The liturgies from Ash Wednesday to Good Friday warn us to look within and without at brokenness and deliberate harm. Faith is about the courage to love when your heart is broken, the determination to hope when all the news is bad. The true foundation of our maturing spiritual lives, the true ground of our heartfelt and honest prayers, are the wilderness times which still live within our souls — where we survived and found unexpected grace.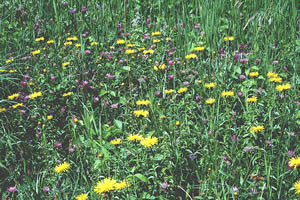 For me these were unexpectedly losing my mother, facing chronic illness of a loved one, or living in exile. These are not places I sought out. These life events found me, and I did not conquer them as much as learned through suffering and endurance and wonder to discern who were angels and what were wild beasts. I learned to give thanks and to find bread even in stones. Scripture spoke for me when I could not speak for myself. This wilderness within ultimately sets us free, for here we encounter the mysterious, faithful Holy One. When our expectations are shattered, we receive the unexpected. We are bewildered by grace, and finally find ourselves at home.
Life itself is our wilderness and our holy habitat, the blooming desert and the fertile field. The love of the vitality of all life sent Thoreau in later years from philosophy to observe minute details of berries as part of his spiritual process; after his famous voyage Darwin devoted himself to the mysteries of the underground lives of earthworms. 3 It is not the devil who is in the details, but God who brings life wherever we are.
[1] Robert Macfarlane, The Wild Places (London, Penguin, 2007), 316.
[2] Wes Jackson, Becoming Native to This Place (New York: Counterpoint, 1996), 67.
[3] David M. Robinson, Natural Life. Thoreau's Worldly Transcendentalism (Ithaca: Cornell Press, 2004; Lyanda Lynn Haupt, Pilgrim on the Great Bird Continent. The Importance of Everything and Other Lessons from Darwin's Lost Notebooks (New York: Little, Brown and Company, 2006).
For further reflection:
* What is your wilderness?
* When have you experienced grace in bewilderment?
* For further reading: Richard Mabey, Nature Cure; Andrew Louth, Wilderness of God; J. Edward Chamberlain, Is This is Your Land, Where are your stories?; John Lionberger, Renewal in the Wilderness. A Spiritual Guide to Connecting with God in the Natural World.
---
Image credits: (1) Wikipedia.org; (2) Join2Day.com; and (3) Wikimedia Commons.