Facebook Wisdom:
"Life Does Not Turn By Your Own Hand"
For Sunday June 14, 2009
Lectionary Readings (Revised Common Lectionary, Year B)
1 Samuel 15:34–16:13 or Ezekiel 17:22–24
Psalm 20 or Psalm 92:1–4, 12–15
2 Corinthians 5:6–10, 11–17
Mark 4:26–34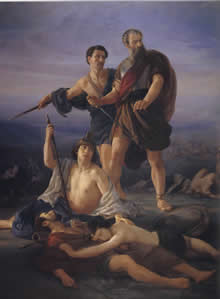 The Death of King Saul, 1848, Elie Marcuse.
I'm a newcomer to Facebook, but I've already learned a smart little trick. Facebook allows you to "hide" those crazy posts like what someone ate for breakfast, which character in literature they resemble, where they're vacationing, or when they're washing the dog. But other posts enrich me, like a former colleague who suggested a book that he "wished he had read thirty years ago."
This morning a Facebook friend posted a remark that crystallized the wisdom of this week's Scriptures: "Many times life does not turn by your own hand." She's right. We're all amateurs of our own mysterious lives.
In The New York Review of Books (May 28, 2009), Sue Halpern reviews three books about how and why people succeed. Are there common denominators among successful people that we could imitate? Just imagine that I really could invest like Warren Buffett if I knew what he knew. Or maybe extraordinary success is the gift of inimical genius, and so I'll never be a Mozart or an Einstein. In his book Outliers, Malcolm Gladwell invokes the "10,000 hour rule of hard work." If I practiced as long, as hard, and as carefully as Tiger Woods, then … Then what? Statisticians remind us, says Halpern, that you can't extrapolate anything from a sample of one life. Plus, people of similar circumstances experience drastically different outcomes. All such "blanket explanations," she concludes, appear speculative and unprovable. In all of our lives there's a mysterious mix of many factors — biology, family, history, chance, choice, education and wealth.
Columnist David Brooks of the New York Times reaches a similar conclusion in his piece "They Had It Made" (May 11, 2009). Brooks considers Harvard's "Grant Study" as discussed in an essay called "What Makes Us Happy?" by Joshua Wolf Shenk in The Atlantic (June 2009). The Grant Study identified 268 young men who entered Harvard in 1936 and has studied them for over seventy years. "The categories of journalism and the stereotypes of normal conversation," writes Brooks, "are paltry when it comes to predicting a life course. Their lives played out in ways that would defy any imagination save Dostoyevsky's … It's the baffling variety of their lives that strikes one the most. It is as if we all contain a multitude of characters and patterns of behavior, and these characters and patterns are bidden by cues we don't even hear."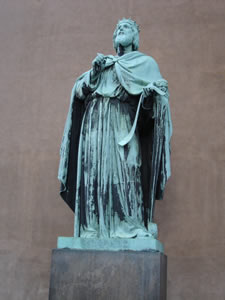 Statue of Israel's King David in Copenhagen,
Denmark. Sculptor: F. A. Jerichau (1860).
Maybe this is why the psalmist's prayer is a little schizophrenic. At first he prays, "May God give you the desire of your heart and make all your plans succeed; may the Lord grant all your requests" (20:4–5). That's not a bad prayer to pray, not by any means, but I'm also grateful that God did not give me much of what I asked for. So the psalmist qualifies and deepens the thought: "some trust in chariots and some in horses, but we trust in the name of the Lord our God" (20:7). Better to trust God's providential care for all things large and small than to insist upon success for what you've tried to micro-manage.
King Saul was a war president: "All the days of Saul there was bitter war with the Philistines." He was also a war profiteer who after defeating the Amalekites took for himself "the best of the sheep and cattle, the fat calves and lambs — everything that was good," all under the pretext of religious piety (1 Samuel 14:52, 15:9). Saul conscripted Israel's children for wars and made them his domestic slaves. He confiscated their lands and imposed exorbitant taxes. He "set up a monument in his own honor" (15:12). Does this ancient story not sound strangely modern?
But divine destiny overshadowed Saul's human decisions, and history did not turn by his own hand. Samuel deposed Saul and anointed the least likely successor. David was the last and the least of Jesse's seven sons. The first six sons had all the marks of regal authority, but the Lord told Samuel: "The Lord does not look at the things that man looks at. Man looks at the outward appearance, but the Lord looks at the heart" (16:7). David might have looked like a lady's man, handsome and "ruddy," but God directed Samuel: "Rise and anoint him; he is the one." God looks at things differently than we do.
Ezekiel had a strange vision of two eagles and a vine, and a word from the Lord that was even stranger. In the waning days of Israel's kingdom, hapless king Zedekiah broke his treaty with powerful Nebuchadnezzar of Babylon by turning to Egypt for help. No, said Ezekiel, that looks and feels patriotic and brave, but to resist pagan Babylon was to resist the very hand of God. "I the Lord bring down the tall tree and make the low tree grow tall. I dry up the green tree and make the dry tree flourish" (Ezekiel 17:24). Things aren't always what they seem.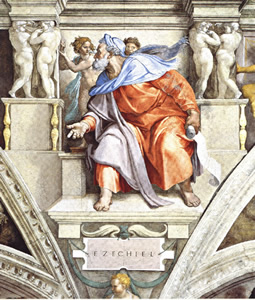 Ezekiel by Michaelangelo.
The kingdom of God grows in inexplicable ways, said Jesus. It's like a farmer who scatters seeds. Then, "whether he sleeps or gets up, the seed sprouts and grows, though he does not know how." Sunshine, dirt, and water, then "all by itself," says Jesus, the seed of the kingdom grows. Nor does this require super genetically modified seeds; even a tiny mustard seed produces unlikely giants (Mark 4:26–34). Maybe this is why Paul tells the Corinthians that he would never dare to "commend himself" to them, as if he had somehow bottled the lightning (2 Corinthians 5:12).
When you search for your high school sweetheart or college classmate on Facebook, you can't help but wonder, "where are they now thirty years later? How did they get there and why? Who could have guessed?!" My wife once told me that if she had not married me, today she probably would be a pastor's wife in a small midwestern town baking cookies in a parsonage. That's not a criticism of that life style, just an acknowledgement that neither of us could have predicted the many twists and turns of marriage. Life, after all, and despite your best efforts and fondest hopes and dreams, does not turn by your own hand.
For further reflection
* See "What Makes Us Happy?" in The Atlantic (June 2009).
---
Image credits: (1) Wikimedia.org; (2) Wikimedia.org; and (3) OldWorldArtisans.com.