God Bless You, Tammy Faye (1942–2007)!
"She Was Living By Faith When She Died"
For Sunday August 12 , 2007
Lectionary Readings (Revised Common Lectionary, Year C)
Isaiah 1:1, 10–20 or Genesis 15:1–6
Psalm 50:1–8, 22–23 or Psalm 33:12–22
Hebrews 11:1–3, 8–16
Luke 12:32–40
A few weeks ago I sat glued to our television as I watched Tammy Faye Messner give an interview on Larry King Live. I wasn't merely channel surfing like I usually do; when earlier in the day I saw that she would be Larry's guest, I knew that I would skip The News Hour with Jim Lehrer and watch Tammy Faye. I confess that since watching the documentary film The Eyes of Tammy Faye (1999) in a little independent theater in Lawrence, Kansas, I've been a fan of hers.
Tammy Faye had appeared on Larry King Live many times, but that night was different. The interview was at her request, and as it turned out, it aired only a few hours before she died at home in Kansas City on July 20. Emaciated from her ten-year battle with cancer, she struggled for every breath and sentence. The colon cancer first diagnosed in 1996 had spread to her lungs in 2004 and then invaded her back. Yes, she said, she was in pain, but the morphine helped. No, she couldn't eat her beloved burger and fries drenched in ketchup, but she could barely swallow a few sips of soup and rice pudding. She was so happy that her weight had increased to 65 pounds.
Despite the ravages, she still cracked corny jokes about wanting to be remembered for her eyelashes; doted on her husband and two adult children; made fun of her trademark makeup and clotted mascara ("Every woman ought to have a wig," she once joked, "because then every day can be a good hair day."); wiped away tears (note to self: the monastics considered tears a gift); engaged in overt evangelism; and did what she's always done so well and that many of us find so difficult—she was entirely comfortable with her own, true self because she knew that God loved her.
Tammy Faye taught us about living through difficulties. God knows, she had more than her fair share, some of her own making. "I know what it's like to hit rock bottom," she once observed.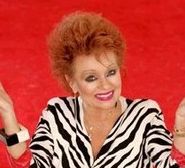 Born the oldest of eight kids in International Falls, Minnesota, to a strict and poor family (no indoor bathroom) of a Pentecostal pastor, her parents divorced when she was three. Her name will be forever linked to her first husband, Jim Bakker, whom she married in 1961. On October 6, 1989 Bakker was convicted on 24 counts of fraud, and 19 days later sentenced to 45 years in prison. At the time, their PTL ministry and 2,300 acre Heritage USA theme park had annual revenues of about 0 million, 3,000 employees, television programs that were aired in 52 countries around the world and seen in 13 million homes each day, and in 1986 about 6 million visitors. Tammy Faye was never indicted for wrongdoing. Bakker served almost 5 years in prison. His twenty-minute tryst with Jessica Hahn, and the 5,000 he paid to keep it quiet, became fodder for late-night comedians.
The public scorn and ridicule were relentless. Divorce from Bakker in 1992 after 30 years of marriage hit hard. Her second husband Roe Messner whom she married in 1993 served two years in prison for bankruptcy fraud, and has had his own bout with prostate cancer. Prescription drug addictions landed her in the Betty Ford Clinic in 1987. Several attempts to revive her television career petered out. Then came the cancer which she battled so bravely for over ten years.
Throughout these hardships Tammy Faye kept showing up, and showing up is a big part of life. No matter how dirty the uniform, she stayed in the game. She never wallowed in self-pity. "You can't go forward," she said, "looking into the rear view mirror of life." She endured public humiliation with self-effacing humor, disarming candor, and an endless store of resilience. She wasn't afraid to name her demons and battle them openly. She learned to accept God's forgiveness for her failures, and perhaps even harder, she learned to forgive herself. When Larry asked if she might like to forget the whole PTL episode, she said, "I have gotten over that, thank God. That was a terrible, horribly bad experience." She modeled an optimism both genuine and genuinely irrepressible, which is why I love the title of her survivor autobiography: I Will Survive—And You Will, Too! (2003). Across her life she recorded more than 25 albums.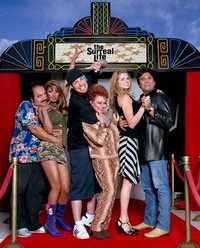 Cast from The Surreal Life.
Tammy Faye also taught us what it means to live with a generous heart that gives and receives love. Long before Christian networks or even major network television broached the subject of HIV-AIDS, and during the years of the Reagan administration's willful silence about the subject, Tammy Faye openly embraced a gay pastor with AIDS on her television show. During that interview she chastised the Christian community for failing to love those who most needed it. In 1996 she co-hosted a TV talk show, The Jim J. and Tammy Faye Show, with Jim J. Bullock, an HIV-positive and openly gay actor. The documentary film The Eyes of Tammy Faye features narration by the drag queen RuPaul and the gay directors Fenton Bailey and Randy Barbato. When asked why she befriended the gay community so openly and despite harsh criticisms, Tammy Faye responded, "When I went, when we lost everything, it was the gay people who came to my rescue and I will always love them for that. . . . While Roe was in prison, the gay community literally took care of me. They sent me money, they sent me beautiful, gorgeous clothes with my name on them, they sent me cards and they would call me. They just literally took care of me while Roe was gone, and became my dear friends."
She also starred in the "reality" show called The Surreal Life about a group of celebrities who lived together in a Hollywood Hills mansion for two weeks. And what a cast—in the show's second season (2004) Tammy Faye joined ex-porn star Ron Jeremy, rapper Vanilla Ice, the Baywatch bombshell Traci Bingham, Playboy model Trishelle Cannatella, and actor Erik Estrada. I mean, who among us has the bandwidth of grace for that crowd?! Even in Tammy Faye's last days her Christian grace impacted these people. During her final King interview a caller asked if she had stayed in touch with her cast mates from The Surreal Life. "You seem to have such a genuine maternal relationship with some of them," observed the caller. "I do," said Tammy. "I talk to them quite often. In fact, they send me flowers. They send me cookies. They send me candy. They send me everything. And I talk to them on the phone a lot—a lot."
As I watched Tammy Faye on Larry King Live, it occured to me that she taught us not only how to live well but how to die well. For a person who might have been haunted by resentments and regrets, she exuded gratitude and hope. She admitted her fears. When Larry asked what she did to face the ultimate enemy, death, Tammy Faye said her faith was strong: "I just pray every day to God, and I say to him, 'I trust you with me.'" Wow, I thought—I trust you with me—there's a lifetime of wisdom in those five words, not only to face death but to live life. "Dear God, I trust you with me."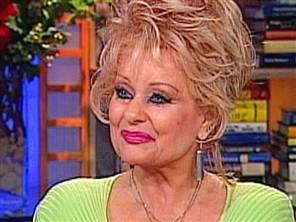 According to Hebrews for this week, the Christian journey begins and ends with faith. "Faith," we read, "is being sure of what we hope for and certain of what we do not see." Wihout faith "it's impossible to please God." As examples the writer mentions the Old Testament saints Abel, Enoch, Noah, and Abraham. Abraham left his homeland not knowing where he was going. He lived "like a stranger in a foreign country." All these saints, despite their long haul of struggles and challenges, "were still living by faith when they died" (11:13). That's exactly what Tamara Faye LaValley Bakker Messner did, and for that I am deeply grateful and greatly inspired. She now takes her rightful place in "faith's hall of fame."
God bless you, Tammy Faye!
For further reflection:
* For Tammy Faye's website see http://www.tammyfaye.com
* For a transcript of the interview with Larry King on July 19, 2007, see http://transcripts.cnn.com/TRANSCRIPTS/0707/19/lkl.01.html.
* For her autobiography, in addition to the sources in the essay, see Tammy: Telling It My Way.