Book Reviews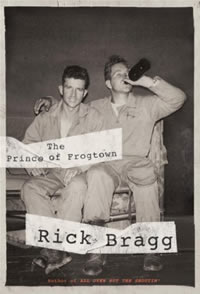 Rick Bragg, The Prince of Frogtown (New York: Alfred A. Knopf, 2008), 272pp.
Thanks to Luke, we're familiar with the prodigal son. Thanks to Rick Bragg, in this third family memoir called The Prince of Frogtown, we meet the prodigal father: Bragg's violent, alcoholic father, Charlie, who caused Bragg and his family such unimaginable trauma and anguish in his early years that they had written him off as unredeemed and unredeemable. Bragg's deep pain festered for a lifetime, when at age 45 it had to be exorcised. It helped that Bragg, best selling author of All Over But The Shoutin' (1997) and Ava's Man (2001), controversial former New York Times feature writer, Pulitzer Prize winner (1996), and teacher of writing at The University of Alabama at Tuscaloosa, had the good fortune to marry for the second time after being single for 20 years. Diane, "the woman," as she is known in Frogtown, has three sons. The youngest one, Jake (a little child shall lead them), opens Bragg's eyes to what it means to be a little boy — for Jake, for Bragg, but most importantly, for Bragg's written-off father, Charlie.
Bragg is forced to discover his real father, and not merely the devilish ghost that haunted his childhood years and subsequent memories. He looks at all the forces that sculpted and shaped him from boyhood, knowing that merely writing him off would also erase much of himself and would pull his own self unredeemed to his own grave, with no peace in the meantime. So Bragg searches for his father by talking to all the cotton mill town folk, relatives, and Korean War buddies in Frogtown, that part of Jacksonville, Alabama, where the fighting, hard drinking, hell-raising Bragg had lived. What Bragg finds, how he tells us about it, and what it does to him and Jake and their relationship is on a par with anything William Faulkner, Thornton Wilder, Ernest Hemingway or Harper Lee ever wrote. All people on the Jesus Journey ought to read this book, real soon. Real soon. If you delay, delay only to read All Over But The Shoutin' about Bragg's mother and Ava's Man about his grandfather.
(A guest review by Tom Ford, an ELCA Lutheran pastor who lives in Arcadia, CA. Ford is a 14th generation North Carolinian and an active doting, corrupting grandfather. He works from time to time as an Intentional Interim Minister. His most recent assignment was at Salem Lutheran Church, Glendale, CA, whose website has some of his sermons (
www.salemlutheranglendale.org
). He can be emailed at
GrandpaFord@roadrunner.com
.)