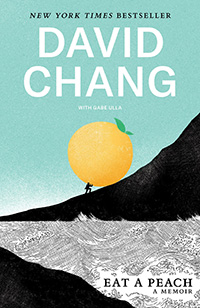 David Chang, Eat a Peach: A Memoir (New York: Random House, 2020), 290pp.
When the celebrity chef David Chang (born 1977) turned thirty-five, he took the advice of a friend and retained an executive coach. The first thing his coach did was to conduct interviews with thirty of Chang's friends, family and employees. They started with the little folder of positive feedback, which Chang says was like "a spa for my mind." But the next day brought a "mountain of negative documents," which took him more than a day to read. His coach did not mince words: "it's incredible to us that so many people have stayed by your side for so long when they can't stand you."
The mashup of professional success and personal struggle is the guiding theme of Chang's brutally honest and refreshingly vulnerable memoir. His professional success is not in question. Chang opened Momofuku Noodle Bar in Manhattan in 2004 when he was twenty-seven. Today his empire includes some thirty-five eateries. He also has two Netflix series, podcasts, a best-selling cookbook, and numerous prestigious awards. Chang has a well-deserved reputation as a maverick bad boy for his creative and unconventional cuisine, which has tried to balance "making money and making trouble." But all this success came at a steep price.
Chang's personal struggles have been long and hard, starting with his ambiguous self-understanding as a Korean American. This began with the "painful and demoralizing" experience of the conditional love of his stern father. He describes getting "water-boarded with religion" by his intensely Christian family. His two decades of therapy have included a diagnosis for bipolar disorder and complicated drugs regimens. There's been heavy drinking, drug use, gambling, suicide ideation, and weight gain (50 pounds). He has constantly ping ponged between arrogance and doubt. Worst of all has been his trademark rage and anger that could be triggered by the slightest provocation or minor mistake by an employee. All these struggles have been exacerbated by working in an industry that has historically "glamorized the crude brutality of the kitchen," where "yelling and shouting are acceptable forms of communication."
It's been said that behind every great man there often lies a trail of human wreckage. Working in the pressure-cooker world of restaurants, writes Chang, "tapped into something ugly within me, and I've been working for the better part of twenty years to correct it." Bravo! May it be so.
Dan Clendenin: dan@journeywithjesus.net