Book Reviews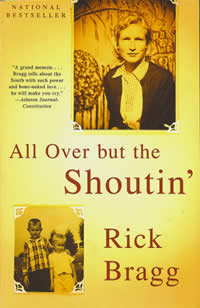 Rick Bragg, All Over But the Shoutin' (New York: Vintage Books, 1997), 329pp.
In this first volume of his trilogy of family memoir, Rick Bragg (b. 1959) takes us to rural Alabama's deep south, and through his deft story-telling introduces us to his people and their ways. With Shoutin' and his two subsequent bestsellers, Ava's Man (2001) about his maternal grandfather and The Prince of Frogtown (2008) about his father, Bragg has earned an avid readership. It's easy to see why. His family of origin epitomized the poorest of poor white trash. His grandfather could neither read nor write, his grandmother dipped snuff, they picked the banjo, danced a jig, cussed like sailors, drank their homemade moonshine like it was water, and brawled at the slightest insult to defend "honor." Bragg spent one semester in college, then started writing, first high school sports, local stories, anything. In 1993 he won a prestigious Nieman fellowship as a journalist to spend a year at Harvard, and in 1996 he won a Pulitzer for feature writing at the New York Times.
Shoutin' works well at many levels, but it's especially about embracing one's family with all its blessings and curses. Bragg introduces us to his violent alcoholic father who repeatedly abandoned his family until his early death at age forty-one, his two brothers, and most of all to his mother Margaret. In his telling, she's a hero's hero. She was effectively a single mother who raised three boys in destitute circumstances. She picked cotton and did other people's laundry at night, swallowed her pride and accepted welfare, and slept on the sofa in their tiny shack. His chapter on taking her to New York City for his Pulitzer award is worth the book alone. She had never been on a plane before and didn't own a suit case; for her few trips before then she stuffed her clothes in paper bags.
In an interview Bragg once described Shoutin' as a failed effort at revenge. His attitude toward his past is deeply ambivalent. On the one hand, he's deeply proud, as every person should be of their family. With brutal honesty he describes the angry chip he's carried on his shoulder about the endless putdowns and insults about his people. He'd prove the cultural snobs wrong, by God. On the other hand, his journey leaves rural Alabama as only a distant reflection in his rear view mirror as his professional reporting takes him around the world. The revenge he savored would come, he thought, when he finally saved enough money to buy his mother a real house for cash. And he did; it would be "a house of healing." But the day she moved in his two adult brothers brawled in the front yard, and his mother returned to her shack before settling in to the new house. And so, he admits, life and the power of place are far more complicated and rich. Bragg has now come full circle; today he teaches writing at The University of Alabama at Tuscaloosa.