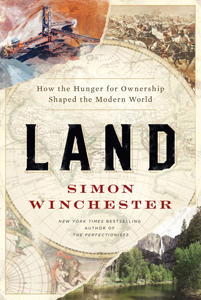 Simon Winchester, Land: How the Hunger for Ownership Shaped the Modern World (New York: HarperCollins, 2021), 464pp.
A review by Brad Keister, former Deputy Division Director of the Physics Division for the National Science Foundation.
Simon Winchester is a best-selling author whose previous two dozen books include Krakatoa, The Map that Changed the World, and The Professor and the Madman. In Land, he explores a subject that is never far from the headlines, be it local or global. Land is one of the few things on the Earth that is permanent (though with sea levels rising, even that statement will have a growing list of exceptions), as well as limited, so a sense of ownership can convey both security and freedom. In this comprehensive book, Winchester traces the numerous and various concepts of land and ownership back in time, complete with concrete and detailed examples along the way.
For many centuries, a key value of land has been its potential for food production. As populations expanded and/or their land lost its fertility, people inevitably sought to expand their borders, eventually leading to conflicts as much of the sought-after property was already occupied by someone else. Such a scenario has been repeated countless times, notably with the treatment of Native Americans in the United States, and the Incas by Spanish conquistadors. In more recent times, land has come to acquire other strategic advantages beyond food, but the quest for ownership — and the violence that has often accompanied it — has continued unabated.
Winchester goes back even further to try and answer the question, "Who is the original owner of a piece of land?" Using his home country of Great Britain as a case study, where the notion of "landed gentry" goes back for centuries, he finds that the means of acquisition for those landed gentry are often dubious at best. After all, as people began to inhabit this planet, no one really "owned" anything.
Native Americans regard modern ideas of ownership as a foreign concept, but instead view the land as a gift to be maintained forever. And with that perspective comes the notion of stewardship as a responsibility for the land's caretakers. In the West, land carries the emphasis upon legal titles and property law. That enables owners to borrow money based upon a confidence of ownership, but it also allows owners to view possession as a license to exploit the land however one wishes.
Winchester strikes a hopeful note at the end of his book, with examples of restoration, be it land restored to a people dispossessed, or the reversal of decades of environmental damage.
An excellent companion to this book is Greg Grandin's The End of the Myth: From the Frontier to the Border Wall in the Mind of America (2019), which examines the specifically American view of land and the exploitation of its original residents in greater detail.
Dan Clendenin: dan@journeywithjesus.net