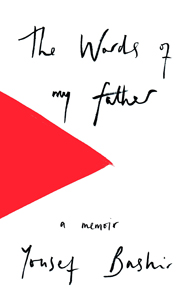 Yousef Bashir, The Words of My Father; Love and Pain in Palestine (New York: Harper, 2019), 224pp.
This memoir by the Palestinian American Yousef Bashir (born 1989) reminded me of the aphorism that's attributed to Stalin, that whereas a million deaths is a statistic, a single death is a tragedy. We've seen and heard so much about the Israeli-Palestinian conflict that it's hard to remember that behind all the anonymous statistics there's a personal story. Bashir tells us his family story about growing up in the Gaza Strip, which has been under Israeli military rule since 1967. As the subtitle suggests, this is a story of both pain and inspiration.
For at least three hundred years Bashir's family owned a plot of land along the Mediterranean Sea, in a town that was named after a fourth-century monastery. His father Khalil loved that land as much as he loved his wife, says the son Yousef. Never would he leave that land, under any circumstances. In addition to his love for his land, Kahlil was an eternal optimist full of moral idealism. He refused to cave in to despair. He repudiated all violence, for in his view violence only begot more violence. This moral idealism was sorely tested when the settlers moved in, and when the Israeli soldiers set up command posts and guard towers on their land, and when they even occupied their house for more than two years. Try to picture the tanks, the bulldozers, the soldiers, the helicopters, and the many humiliations.
When Yousef was fifteen, he took a bullet in his back while standing in his front yard. He then faced a choice between understandable rage or his father's commitment to peaceful co-existence. While in rehab for six months in Tel Aviv, he says that the Israeli nurses who treated him were like angels. It was a turning point when he discovered his own humanity: "To know that my apparent enemies were also human was my father's most important gift to me." For a similar lament from a Jewish perspective, see my review of the book by Yossi Klein Halevi, Letters to My Palestinian Neighbor (New York: HarperCollins, 2018), which is a series of imaginary letters written to Halevi's Palestinian neighbor.
Dan Clendenin: dan@journeywithjesus.net