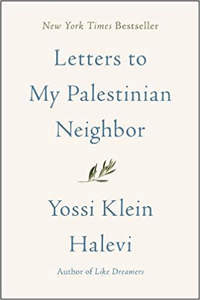 Yossi Klein Halevi, Letters to My Palestinian Neighbor (New York: HarperCollins, 2018), 204pp.
Yossi Halevi's newest book is an outgrowth of his recent project as co-director, along with Abdullah Antepli of Duke University, of the Muslim Leadership Initiative, the purpose of which is to educate emerging Muslim American leaders about Judaism and Israel. The MLI is part of the Shalom Hartman Institute in Jerusalem, the leading center for pluralistic Jewish research and education.
Halevi brings an interesting personal story to this book of letters to an imaginary Palestinian neighbor. In the summer of 1982, at the age of twenty-nine, he left his home in New York City and relocated to Jerusalem. In many ways it was a natural move. He joined the right-wing Zionist youth movement Betar at the age of thirteen: its maximalist vision and "uncompromising insistence that all the land belonged by right to us deeply stirred me." As a teenager he wore a necklace with a small silver map of Israel. Halevi's first book, Memoirs of a Jewish Extremist (1995), tells how he eventually broke with this militant movement and its mindset. His next book, At the Entrance to the Garden of Eden: A Jew's Search for God with Christians and Muslims in the Holy Land (2001) describes how he entered the Muslim mosques and Christian monasteries in search of a language of reconciliation for the three monotheistic faiths.
This newest book, which opened on the NYT non-fiction best seller list, is a sequel in which Halevi tries to explain his evolved Jewish faith to his Muslim neighbors. He explains that he's trying to provoke a conversation with his Muslim friends about their "shared future in the Middle East," and to that end he's even posted an Arabic translation of the book on the web for free downloading.
Halevi repeatedly veers between two fears, both of which are not only reasonable but essential to his Jewish identity. He has the moral fear that his people are not living out their vocation to be compassionate, to remember that they too had been strangers in Egypt. He also has an existential fear of living in a world of genocide, and so his people are called to be vigilant, for "when your enemy says he intends to destroy you, believe him." Thus an excruciating dilemma of two non-negotiable commands: "The stranger whom we are occupying is the enemy who intends to dispossess us. And so how do I relate to you, neighbor: as victim or as would-be victimizer?"
As a religious person, Halevi says that we are forbidden to despair. His book is even an act of defiance against despair. It's an attempt to connect people who are living right next to each other but who are nonetheless separated by a vast abyss. Like many readers, I found this book to be unusually compassionate, fair minded, and forthright.