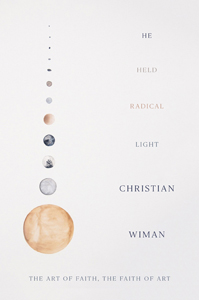 Christian Wiman, He Held Radical Light: The Art of Faith, The Faith of Art (New York: Picador, 2018), 114pp.
In this beautiful sequel to his 2013 memoir, My Bright Abyss, Wiman takes up two of the questions that most powerfully animate his poetry: "What is it we want when we can't stop wanting? And how do we make that hunger productive and vital rather than corrosive and destructive?" In a book-length essay that moves gracefully between personal anecdote, literary criticism, lyric poetry, and narrative theology, Wiman explores what it means to seek an elusive God both in poetry and in life, and works to reconcile a spiritual hunger that "thrives on longings that can never be fulfilled."
In many ways, this book is a love letter to poems and poets. Wiman peppers the book with fascinating and often funny encounters he has had with writers. He describes a time when A.R Ammons showed up for a poetry reading in Virginia, but refused to read, saying, "You can't possibly be enjoying this." We learn about the time Wiman accompanied Mary Oliver to a literary event, and she picked a dead pigeon off the sidewalk and tucked it into her pocket. We learn that when Wiman was 38 years old, Donald Hall told him, "I was 38 when I realized not a word I wrote was going to last." Through these and other anecdotes, Wiman humanizes the writers he holds in high esteem, even as he reflects on their lasting legacies.
Indeed, a chilling but perhaps also liberating sense of mortality provides the undercurrent of He Held Radical Light. What does it mean to be immortal? Can one's art ever make one immortal? What role can art and faith play in helping us cope with our finitude? How shall we tolerate reality, which is "perceived truly only when the truth of its elusiveness is part of that perception"?
Wiman's is not a book of trite answers. It is not a book of answers at all. It is a wise, elegiac book that elevates and makes sacred the questions — the real questions, the deep questions, the essential questions that drive, shape, haunt, and complicate our lives.
Debie Thomas: debie.thomas1@gmail.com