Book Reviews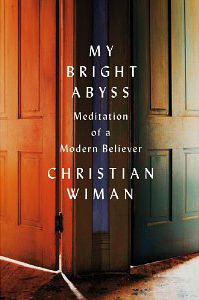 Christian Wiman, My Bright Abyss; Meditation of a Modern Believer (New York: Farrar, Straus and Giroux, 2013), 182pp.
           Christian Wiman (b. 1966) is an American poet, the author of a half dozen books, and the editor of the journal Poetry, the oldest poetry magazine in the United States. On his thirty-ninth birthday, he was diagnosed with a rare form of cancer. His many different treatments included a bone marrow transplant. At about the same time, Wiman fell madly in love and married his wife, Danielle. Today they have two children. Percolating underneath all of this was a long latent faith from his childhood days in West Texas.
           The current volume is hard to categorize. It is part confession, part memoir, part philosophical and theological investigation. Rather than a continuous line of argument, his book is a "mosaic" of "prose fragments" that he admits has an "episodic" quality. Almost all of the entries are less than one page. They try to unpack his personal experience of falling in love in the shadow of death while trying to discover what assenting to his long latent faith might mean (or not).
           "What I crave now is some speech that is true to the transcendent nature of grace yet equal to the hard reality in which daily faith operates." Elsewhere he describes this as finding that elusive balance between "active devotion and honest modern consciousness." Life in our modern world, he says, with all its anxieties, ambitions, and distractions, is like "collective ADHD." And so he keeps asking, seeking, and knocking "to see the sanity and vitality of this strange, ancient thing" called Christian faith.
           Wiman's book is not a casual read. It's a rich brew of personal experience, reflections on his favorite authors (George Herbert, Cormac McCarthy, Fanny Howe, and Marilynne Robinson), and intellectual inquiry that draws comparisons with Pascal's Pensées (1669). Now seven years beyond the thrill of love and the specter of death, Wiman offers "these little fragments here and there, finding God here and there among the ongoing delights and demolitions of daily life." My Bright Abyss has received uniformly positive reviews by the New York Times, the New Yorker, The Chronicle of Higher Education, NPR, and other mainstream media.