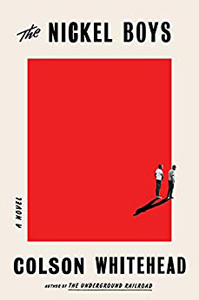 Colson Whitehead, The Nickel Boys: A Novel (New York: Doubleday, 2019), 224pp.
A review by Beth Thomsen Kawasaki. Beth is a graduate of Seattle Pacific University and Fuller Theological Seminary. She lives and works in California.
Colson Whitehead's considerable body of work defies easy categorization. There's mystery, allegory, parody, essay, and memoir. History and dystopia. Fiction and non-fiction, writing rules are liberated and blurred. Whitehead's MacArthur Genius and Guggenheim fellowshipped (sic) brain works likewise when speaking to a group. I left a recent bookstore event full and fatigued.
In Sag Harbor (2009), "Black teens with beach houses" come-of-age. Zombies threaten Manhattan in Zone One (2011). A study of world-ranked poker players in The Noble Hustle follows soon after (2014). Whitehead won the Pulitzer Prize, the National Book Award, and the Carnegie Medal for Fiction for Underground Railroad (2016), which is set in the twisted norms of the antebellum South and chronicles one woman's efforts to escape the sickness of slavery on a re-imagined railroad — under the ground.
Whitehead has said that if Underground Railroad tells the story of Cora's escape to freedom from slavery, The Nickel Boys tells "how slavery caught back up." In The Nickel Boys, Elwood Curtis is a book-smart high schooler from the black enclave of Frenchtown in segregated Tallahassee during the Jim Crow era. For Christmas 1962, Elwood receives "the best gift of his life," Martin Luther King at Zion Hill, an album espousing ideas of radical love and equality that never leaves his turntable, and will never leave his mind. In contrast, his God-fearing and grounded grandma, who's following the radio announcement of SCOTUS's desegregation decision in Brown vs. Board of Education (1954), shrieks, "Jim Crow ain't just going to slink off...his wicked self."
As Elwood heads off to pursue college courses in a nearby town, he makes an innocent mistake en route that lands him in Nickel Academy, a juvenile reform school for boys. There he encounters a corrupt, sadistic, and segregated environment where the black boys are malnourished, rented out to locals for manual labor, and physically and sexually abused by staff.
After a brutal beating, Elwood tries to hold onto Dr. King's assertion, "Throw us in jail and we will still love you," while befriending the street-smart survivalist Turner, who shares none of Elwood's "naive" ideals. We are thus invited to join these young, intelligent, and brave black men as they navigate and suffer evil through different worldviews.
The pain in this fictional story is particularly powerful because it's rooted in a real story. Whitehead, a former journalist for the Village Voice, came across devastating news accounts of the state-run Dozier School for Boys in Marianna, Florida, which was allowed to operate for 111 years, closing in 2011. It housed and humiliated thousands of boys — black, brown, and white, during its history, and 82 suspicious graves have been unearthed by anthropologists, subcontractors, and Hurricane Michael. The last an "act of God"?
When asked about the kind of research he did for Nickel Boys, Whitehead said that he delved deep into those news accounts, and even bought an airline ticket to visit Dozier, but he could not bring himself to go there, "it's a place of incredible evil."
Beth Kawasaki: beth.kawasaki@gmail.com