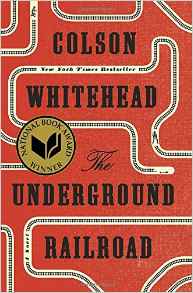 Colson Whitehead, The Underground Railroad, A Novel (New York: Doubleday, 2016), 306pp.
Colson Whitehead (born 1969) has earned a MacArthur Grant, a Guggenheim Fellowship, and was a Pulitzer Prize finalist for his previous five novels and two works of non-fiction. His newest book about a runaway slave named Cora was a selection for Oprah's Book Club, has been short-listed for numerous "book of the year" lists, and nominated for a National Book Award.
Cora's story begins with her grandmother Ajarry, who was sold by slavers in the coastal city of Ouidah in Benin, then sold and resold, and with her mother Mabel, whom she barely knew because she "vanished" one night as a runaway — stranding Cora as a "stray" on the Randall plantation in Georgia. She was a "stray" because she was orphaned, but "in every other sphere as well. Somewhere, years ago, she had stepped off the path of life and could no longer find her way back to the family of people." Or as a wanted poster for her put it, Cora was "possessed of a spirited nature and devious method."
And so, like her mother, one night Cora bolted. In this morally murky tale in which everyone is implicated and "no one was spared," she meets bad people who are good, and good people who are bad, monsters and saints, both black and white. Ordinary people doing extraordinary acts of cruelty and kindness. People with new names and fake papers.
We meet station agents, night riders and slave catchers, abolitionists who posed as slave catchers in order to free people, grave robbers who dug up black bodies and sold them as cadavers for dissection (and the advance of science), people in mixed marriages, children who betray their parents, and the many unknown people who dug the secret networks of tunnels, laid the tracks, and left food and drink in the underground railroad stations. Driving all this was "the ruthless engine of cotton, which required its fuel of African bodies."
Whitehead does an especially good job of detailing the complexities of people and place. South Carolina prided itself on "civilizing the savage" and its "negro uplift," in North Carolina there were public lynchings on the town square every Friday, and in Indiana we meet a progressive farm that fostered community for all and open debate about "the colored question" (until it was burned to the ground).
If there's a message in this story, it comes at the end of the book: "The world may be mean, but people don't have to be, not if they refuse." But that's easier said than done, for even if you escaped the hell of plantation life, Cora learned, you carried it with you "despite the miles. It lived in them. It still lived in all of them, waiting to abuse and taunt when chance presented itself." Even after a horrific Civil War, that plantation history continues to live today.