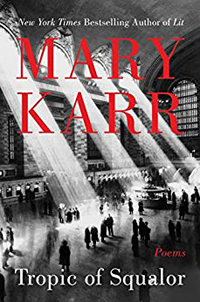 Mary Karr, Tropic of Squalor: Poems (New York: HarperCollins, 2018), 75pp.
Like many readers, I first encountered Mary Karr, the Peck Professor of Literature at Syracuse University, through her prose work. In three best-selling memoirs, she describes growing up with a psychotic mother who packed a pistol, nearly drank herself to death, wielded a butcher knife at her two children, and married seven times. The Liars' Club (1995) covered her childhood days in a small town near Port Arthur, Texas, and then Cherry (2000) treated her adolescent years. In an interview with the New York Times, Karr describes her third volume, Lit (2009), as "my journey from black belt sinner and lifelong agnostic to unlikely Catholic."
Karr has also published four previous volumes of award-winning poetry that have earned her fellowships from the Guggenheim and the National Endowment for the Arts. The thirty-six poems in this volume were previously published in places like The New Yorker and Poetry magazine. The "squalor" of the title refers to our messy human lives that are often full of pain and suffering, but that nonetheless search for and find some numinous light in the darkness.
There are poems here about Karr's own time spent in a psychiatric hospital ("Loony Bin Basketball"), her encounters with the homeless street people of New York City ("Hell's Kitchen"), the environmental and economic exploitation of the oil industry in her native Texas ("Poison Profundis"), and the life of her unlettered father ("Illiterate Progenitor"). There are at least three poems that are rooted in her relationship with the novelist David Foster Wallace, who took his own life in 2008 ("Face Down" and "Suicide's Note").
I had two minor complaints about this collection. First, there is no introduction or afterword that sheds any light on the composition of these poems. Second, none of the poems are dated, which would have helped to put them in context. For example, a couple of the poems reflect on the 9/11 terrorist attacks in New York City, and it would have been interesting to know more about their provenance. Still, this latest volume by Karr shows why both her prose and poetry speak to many people today.

Dan Clendenin: dan@journeywithjesus.net