Book Reviews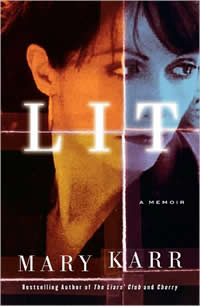 Mary Karr,
Lit: A Memoir
(New York: Harper, 2009), 386pp.
In two previous memoirs, Mary Karr (b. 1955) described growing up with a psychotic mother who packed a pistol, nearly drank herself to death, wielded a butcher knife at her two children, and married seven times (twice to Karr's biological father). The Liars' Club (1995) covered her childhood days in a small town near Port Arthur, Texas, and then Cherry (2000) treated her adolescent years. Both volumes enjoyed long rides on numerous bestseller and best-book lists. In an interview with the New York Times Karr describes her third volume as "my journey from black belt sinner and lifelong agnostic to unlikely Catholic."
Karr combines self-effacing humor, unusual candor, and brilliant Texas trash-talking to narrate the "psychic carnage" that she inherited from her deeply dysfunctional family. How to keep from "morphing into mother?" Lit begins with a drink-n-drug fueled period in California after high school, and then two years in college before she dropped out, but which also included a professor who, in the mysteries of fate, became a lifelong force for good. An improbable marriage to a man who was her polar opposite (mega-wealthy Boston Brahmin) lasted eight years and produced a son, but divorce, penury, endless therapy, repeated relapses, and hospitalization in a psychiatric ward for "persistent suicide ideation" all followed.
"Saturated in shame," Karr's long road to salvation, both literal and figurative, began in an AA meeting in a church basement. Her "moment of clarity" came when she crashed her car, stumbled home, and her husband said, "you smell like a bum." Her sad and sordid tale leads to what Karr calls her "nervous breakthrough" and eventual baptism into the Catholic church in 1996. She knows that "some mystery carried me" through all those years, and chronicles several hard-to-believe "coincidences" she experienced. Karr is unapologetic in her book and in numerous print and television interviews about her Christian conversion. Therapy helped in many ways, but the gospel started to "rewrite the story of my life in the present, and I began to feel like somebody snatched out of the fire, salvaged, saved" (304). Today Karr is Peck Professor of Literature at Syracuse University.