The Perseverance of the Saints
All Saints Day
For Sunday November 2, 2014
Lectionary Readings (Revised Common Lectionary, Year A)
Joshua 3:7–17 or Micah 3:5–12
Psalm 107:1–7, 33–37 or Psalm 43
1 Thessalonians 2:9–13
Matthew 23:1–12
A guest essay by Edwina Gateley. Gateley's journey has led her to teaching in Africa, founding Volunteer Missionary Movement, sojourning in the Sahara Desert, spending nine months of prayer in a trailer in the woods, befriending and ministering to street people and women in prostitution — "God's little ones," and preaching the Good News that God Is With Us. Edwina is a poet, theologian, artist, writer, lay minister, modern-day mystic and prophet, and a single mom. She gives talks, conferences and retreats in the United States, as well as internationally, while continuing to reach out to women in recovery from drugs and prostitution. You can visit her website here.
           This week the church celebrates All Saints Day. If you ask the average Christian what that means, they will probably tell you that we remember and honor holy and extraordinary people who have gone before us — most likely leaving behind them a trail of miracles and amazing acts of self-sacrifice, suffering, heroism and the like. At least this is what you would probably hear from members of my own Catholic tradition.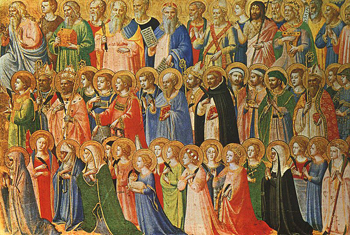 But this is a narrow definition of sainthood which undermines and excludes what I believe was the original intention of "All Saints." The early church, having survived over 300 years of persecution, wanted to remember and celebrate those Christians who had remained faithful in spite of the fear, the hostility and the very real danger of their witness to Christ. So they allocated a special day to honor all those who had endured and persevered during those violent times. My hunch is that the vast majority of these believers were ordinary folks who were probably scared out of their wits, but hung in there because of their faith.
           In that sense, being a "saint" has nothing to do with being special or holy or different. It was, and is, about being faithful — no matter what.
           Of course, in those early times, many Christians suffered horrendous deaths and were burnt, crucified, eaten by lions, died in dungeons, etc. Others attained feats of endurance or performed miraculous deeds. But the average Christian "Joe" (saint) probably hunkered down and prayed to get through the traumas of the time without losing faith. This is, in itself, heroic.
           But, over the centuries, this understanding of saints as regular Christians staying faithful under duress was edged out in favor of the miraculous and the dramatic — the martyrs and miracle workers! It is no wonder that Christians today struggle to really believe they can ever be a "light to the world!"
           Our generation is desperately in need of a renewed and authentic understanding of "All Saints." Whilst physical persecution of Christians still exists in some parts of the world, there is another kind of challenge that calls for a courageous response from believers. The human race is facing a darkness that is pervasive and frightening. On all levels, our faith in God's presence and grace is being challenged — endless wars, climate change, rampant diseases, corporate power, increasing poverty, and natural disaster. These, and a host of other scary realities, threaten to overwhelm us and quench the little bit of light, leaven and salt that we have been desperately holding on to from trauma to trauma. We are, it seems to me, in the midst of a global "dark night."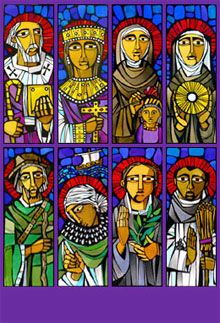 Many, understandably, are withdrawing into helplessness, apathy, and defeat. But this is precisely the time for the saints — the real ones. This is the time when our understanding of this celebration must sink into a wiser and deeper space such as we read of in the Scripture about the tree that puts its roots deep into the earth seeking moisture. When the storms and violent winds come, such a tree, rooted so deeply, does not break. It is so filled with sap that it bends and moves with the winds — but is not broken.
           Being a saint is all about being rooted in Christ and staying firm and faithful in the midst of all the violence.
           Being a saint in our times means being counter-cultural — seeing beyond and beneath the externals — knowing that, in spite of the fearful realities around us, the light of Christ is always present in the heart of our chaos. As the social activist William Coffin wrote: "Hopelessness adapts. Hope resists."
           We resist, and we stand over and against injustice, poverty, violence and diminishment of any kind like a tree rooted firmly in the earth, rooted in Christ — we hold on to the Gospel values. We dare to proclaim, in the face of fear and evil, that there is light down there in that darkness — that God is with us and will never leave us. Such a proclamation of faith in these times of darkness makes us, indeed, worthy to be called "Saints."
           Let us celebrate this Feast with deep gratitude.
Faith

When all around is deadened grey,
Help me, God,
Keep on believing.
When dulled my soul,
Though the song birds sing,
Help me, God,
Keep on believing.
When even I
Dare doubt your grace,
Help me, God,
Keep on believing.
When dreams collapse
And bright hopes die,
Help me, God,
Keep on believing.

(Edwina Gateley: From Growing into God (Sheed &Ward)
---
Image credits: (1) Wikipedia.org; (2) Arimethea.co.uk; (3) CatholicGreetings.org; and (4) ExecutedToday.com.