Close to His Heart: Tenderness
For Sunday December 4, 2005
Second Sunday in Advent
Lectionary Readings (Revised Common Lectionary, Year B)
Isaiah 40:1–11
Psalm 85:1–2, 8–13
2 Peter 3:8–15a
Mark 1:1–8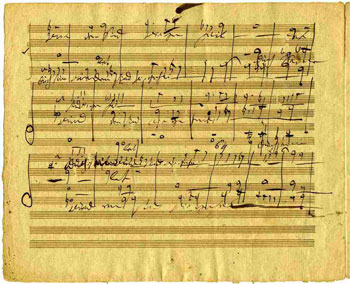 Manuscript of the Messiah copied by Beethoven.
Every year at this time I dig through my jumble of CDs to find the Messiah by George Frederick Handel (1685–1759), which I then play day after day through the advent season. Handel composed the oratorio with breath-taking speed in just three weeks, from August 22 until September 14, 1741. Combined with the libretto prepared by Charles Jennens, which is nothing more or less than Old and New Testament passages from the King James Version of the Bible (1611), the Messiah is perhaps the greatest and most widely recognized aesthetic expression of spiritual truth ever created. Its slow, soothing first strains open with poetry from Isaiah for this week: "Comfort ye, comfort ye my people, saith your God. Speak ye tenderly to Jerusalem, and cry unto her, that her warfare is accomplished, that her iniquity is pardoned" (Isaiah 40:1–2).
Handel and Jennens begin the Christian story at a signal juncture by highlighting the character of God. Isaiah's poetry imagines a sentinel who climbs a high mountain and screams at the top of his lungs: "Behold your God!" (40:9). He compares this God to a shepherd tending his sheep: "He gathers the lambs in His arms and carries them close to His heart." Yahweh is a God who builds a highway in a desert wasteland, who raises valleys and levels mountains, and who makes "the crooked straight and the rough places plain."
The Christian God is not merciless or vindictive, stingy, strict or severe. Nor is He aloof, detached, indifferent, or unconcerned. No, Isaiah's God exudes kindness, solicitude, and affection toward all. The God of his poetry longs to bring every human being "close to His heart" (40:11). From start to finish, the Christian story celebrates this God who is above all else characterized by gentleness, tenderness, and empathy toward "all flesh" (40:5).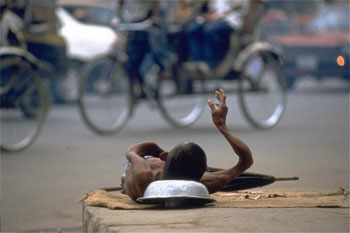 An HIV-person in Bangladesh.
Since 1988 a growing number of people around the world have commemorated December 1 as World AIDS Day. Despite the progress made, the statistics of this scourge, and especially its human toll, remain staggering. In the year 2004 about 5 million people were newly infected with HIV. Young people between the ages of 15 and 24 accounted for half of these new infections. At the end of 2004 women accounted for 47% of all people living with HIV, although in the poorer parts of the world that figure is much higher. Since 1981 more than 20 million people have died of AIDS, and at the end of 2004 almost 40 million people were living with HIV—nearly 95% of whom live in the developing world. Africa alone has 12 million AIDS orphans.1
One favorite saint of mine who is intervening with compassionate care motivated by the tenderness of God is Dr. Art Ammann, the former Director of the Pediatric Immunology and Clinical Research Center at the University of California Medical Center in San Francisco. Back in the summer of 1981 Ammann treated a prostitute IV-drug abuser and three of her children, all four of whom presented unusual deficiencies in their immune systems that were aggravated by opportunistic infections that did not fit normal medical models of disease. He determined that the mother and all three children had contracted AIDS, which was tragic enough because the disease was fatal, but perhaps more devastating was his shocking conclusion, hotly contested and very controversial at the time, that HIV-AIDS was not limited to adults. Ammann determined that HIV had passed from the mother to her children as an "acquired" and not an "inherited" disease. In 1982, he thus documented the first cases of AIDS transmission from mother to infant and the first blood transfusion AIDS patients.
Ammann reflects back on those days: "We were disturbed not only by how severely sick patients were, but also by how the disease impacted entire families. HIV-AIDS created pain and suffering that ruptured relationships, families and communities, and incited a secondary worldwide epidemic of widows and orphans. Not long into the epidemic discrimination and stigmatization by both Christian and secular communities aggravated the anguish of those who already suffered with AIDS."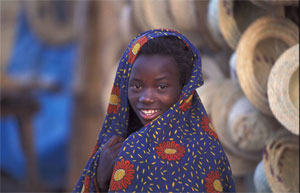 AIDS orphan in Zambia.
"As the epidemic grew, I saw an opportunity for Christians to respond, as they often had, with the tenderness of God the Father that was incarnated in the life and teachings of Jesus. Throughout my medical career I had related the teachings of Jesus to disease, pain and suffering. I found comfort in the words that He spoke and how He touched individuals. This became intensely relevant to my interactions with AIDS patients. Although I did not fully comprehend the meaning of their pain and suffering, I reached out to those with AIDS to offer comfort and hope—to touch them physically and spiritually as I felt that Jesus would have done."
"I also understood that Jesus the healer broke the stereotypes of His day and provided both physical and spiritual healing. Studying the Old Testament, I could not escape the conclusion that justice was linked directly to care for widows and orphans without qualification as to how they became a widow or orphan. Cause was not a determinant for rendering justice. 'Learn to do good; seek justice, rescue the oppressed, defend the orphan, plead for the widow' (Psalms 117:17)."
"The most poignant example of Jesus's compassion was the Samaritan woman at the well, who perhaps today would represent the AIDS epidemic. John 4 records the meeting during which Jesus broke down religious and cultural barriers of the day. He, a Jew, met with her alone. She was the wrong gender, the wrong religion, the wrong ethnicity and a woman who was likely a prostitute. Yet, Jesus identified with her thirst for physical and spiritual needs. He met her spiritual needs with an offer of living water, words never spoken to another person. The words brought her comfort, revolutionized her life and brought others to hear Jesus. I cannot help but feel that the disciples, who had gone to the village for food, were excluded from the entire encounter because Jesus understood that they would not have comprehended how His compassion and forgiveness could overcome all forms of discrimination."
"I do not believe that God calls us to find a cure for AIDS, or for poverty, or for universal pain and suffering. But I do believe that He wants us to reach out to individuals whom He places in our path with a healing touch and with words of tenderness, love, forgiveness and hope. The AIDS epidemic is a test of how deeply we believe in the tenderness of God and the teachings of Jesus—how strong is our forgiveness, how rich is our compassion, and how far our love reaches out to overcome the stigmatization and discrimination of AIDS to comfort those in pain and suffering."
In 1998 Ammann founded Global Strategies for HIV Prevention, where today he ministers around the world. With a special focus on women and children, Global Strategies implements international strategies to prevent HIV infection and to work toward "a generation free of HIV." They have distributed the CD-ROM "Women, Children, and HIV" (containing more than 5,000 pages of medical information) to health professionals in over 50 countries. Their "Cradle of Life" program trains birth attendants to care for HIV infected pregnant women in resource-poor developing countries. My personal favorite is their "Save a Life" program that makes the drug nevirapine available to pregnant women, reducing mother to child transmission of HIV by as much as 50%. To date, Global Strategies has provided nevirapine or funds to purchase nevirapine for over 62,000 mother/infant pairs in over 70 hospitals or clinics in over 22 countries.
A few years ago the International Association of Physicians in AIDS Care (IAPAC) honored Ammann with their "Hero in Medicine" award. To me, Ammann is not only a scientific hero but a Christian saint who in the later years of his career has placed himself at the intersection of extreme human need in order to demonstrate the tenderness of God. Thanks to him, thousands of tragically sick people have experienced not only expert health care but a touch of love, and so have been brought "close to God's heart" (Isaiah 40:11).
For further reflection:

* See Brennan Manning, The Wisdom of Tenderness (2002).
* How has HIV-AIDS impacted your Christian community?
* Why has HIV-AIDS carried such a stigma and provoked such discrimination?
* How might you demonstrate the tenderness of God that moves people close to His heart?
---
[1]
http://www.unaids.org/bangkok2004/report.html
.