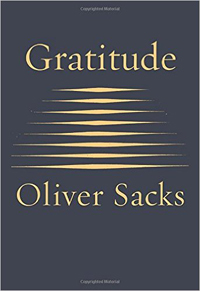 Oliver Sacks, Gratitude (New York: Knopf, 2016), 45pp.
The four "chapters" that comprise this tiny book originated as essays in the New York Times that Oliver Sacks (1933-2015) wrote in the last two years of his life. Sacks, who died in August of 2015 from cancer, spent the better part of fifty years as a neurologist and best-selling author of books that were based on the clinical histories of his patients. He was famous for his unusual degree of empathy, not to mention scientific curiosity, for his patients and how they had been "mistreated or marginalized" because of their diseases. And so, he told their stories. See, for example, our JwJ reviews of The Mind's Eye, Musicophila, and his memoir On the Move that was completed just before he died.
"Mercury" was published in July of 2013 on the occasion of his eightieth birthday, and eighteen months before he learned that his rare form of eye cancer had metastasized. One month after learning that he had multiple metastases in the liver, and that he was suddenly "face to face with dying," he wrote "My Own Life." "I feel a sudden clear focus and perspective. There is no time for anything inessential." About three months before he died, in the summer of 2015 while he was still in fairly good health, he wrote "My Periodic Table." The last essay, "Sabbath," appeared just two weeks before he died. There he reflects on his ambivalent feelings about his Jewish heritage, and about "what is meant by living a good and worthwhile life."
What we have here is a gifted writer who lived a colorful life reflecting on the pleasures and pains of old age, the perspective of time, the many gifts of life, and the specter of death that he faced with candor and grace. " I cannot pretend I am without fear. But my predominant feeling is one of gratitude. I have loved and been loved. I have been given much and I have given something in return. Above all, I have been a sentient being, a thinking animal, on this beautiful planet, and that in itself has been an enormous privilege and adventure."