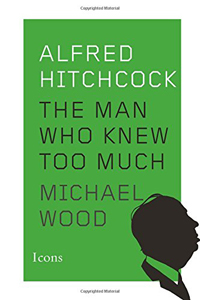 Michael Wood, Alfred Hitchcock; The Man Who Knew Too Much (New York: New Harvest, 2015), 129pp.
This slender biography of the famous film director is just one title in a series called "Icons" by the New Harvest imprint of the publisher Houghton Mifflin Harcourt. Other subjects in the series include the likes of Jesus (nice title: The Human Face of God), the apostle Paul, Van Gogh, Edgard Allan Poe, David Lynch, Judy Garland, Hannah Arendt, etc. These aren't substitutes for longer, critical studies, but they're a good way to get a reliable overview of important culture makers.
Alfred Hitchcock (1889–1980) presents some special challenges for a short biography. He once told the biographer Charlotte Chandler that "to interview him she would have to interview his films." Michael Wood, professor emeritus of comparative literature at Princeton, follows that advice. His book is mostly short takes on some of Hitchcock's movies. But this makes for choppy and tedious reading. Most readers won't have seen most of these films. Besides, which of Hitchcock's fifty-eight movies do you review for a hundred-page book, besides the obvious candidates like Psycho and Vertigo, judged by some critics to be the best film of all time?
The trademark themes that made Hitchcock famous — violence (mainly against women), guilt, obsession, fear, and suspense, beg for some connection between the man and his message. Was he a sadist who enjoyed torturing beautiful women? Or perhaps a masochist who enjoyed his own suffering?
I like Wood's conclusion: whatever you conclude about Hitchcock's "private pathology," he was also in many ways a very ordinary person, with his own kindnesses, and a "family man" (p. 11) married to his wife Alma for fifty-four years. More importantly, whatever his films reveal about him, Hitchcock knew deep and dark things about us, his audience, and that's why his movies have been so powerful to so many millions of people for so long. And so the title of the book, which is also the title of two of his films — Hitchcock knew "way too much" about our human psyche.