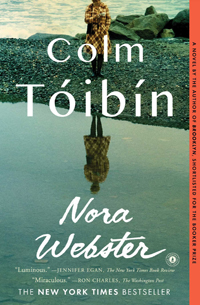 Colm Tóibín, Nora Webster; A Novel (New York: Scribner, 2014), 373pp.
Nora Webster's husband Maurice had been dead for three years, but she still had not removed his clothes from their closet. Everywhere she turned she collided with memories of him — in watching a movie with the kids, a song, a conversation: "Every room, every sound, every piece of space, was filled not only with what had been lost, but with the years themselves, and the days."
And money was tight. She sold the family beach house, and returned to a clerical job she had quit twenty years earlier. Should she sell the car? Move to Dublin? Take her son to a speech therapist for his stammer, or maybe that's a temporary manifestation of teenage grief?
"So this was what being alone is like," Nora thought.
Such are the harsh realities of a widow with four children. Nora Webster, the protagonist of Colm Tóibín's character study, is figuring out how to resume life after the death of her husband. The shadow of their shared past looms over her present. It also becomes hard to admit, and to enjoy, the growing realization that she was now free. She could do anything she wanted, like go to Spain for a much needed rest, or splurge on a stereo and new clothes.
Set in the village of Wexford, where everyone knows your business, it might not be so hard if neighbors weren't so nosy. Like when Nora got a new hair cut, took voice lessons, and — gasp! — joined a trade union. Faith isn't much help: "I hope never to hear another rosary," she says. It's overwhelming for a woman who has never had a passport, flown on a plane, been to London, or even had a phone in her modest house. It's the stuff of personal grief set in the pettiness and provincialism of small-town Ireland, themes which Tóibín has considered in his seven previous novels.