Kent Haruf, Our Souls at Night; A Novel (New York: Knopf, 2015), 179pp.
In an interview six days before he died of interstitial lung disease at the age of se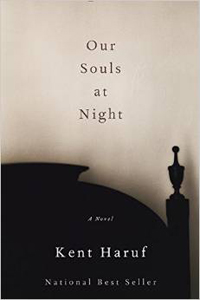 venty-one, Kent Haruf described the origins of his final novel. After learning that his disease was incurable and irreversible, he decided how he would spend his last days.
"At the beginning of May, I started to go out to my writer's shed outside the house, and by the middle of June, I had written the first draft of a new novel… I've never had that experience before. I don't want to get too fancy about it, but it was like something else was working to help me get this done. Call it a muse or spiritual guidance, I don't know. All I know is that the trust I had in being able to write every day was helpful."
Haruf's best known book, Plainsong (1999), sold more than a million copies and was a finalist for the National Book Award. In 2012, he won the Wallace Stegner Award.
Our Souls at Night was released in May of 2015. Like his five previous novels, this one is set in the fictional town of Holt, on the eastern plains of Colorado, and depicts life in the rural west in 2014. The book begins with a small town shocker:
"And then there was the day when Addie Moore made a call on Louis Waters." She proposed that the widower-neighbor come to her house so that they could sleep together. Not to have sex, but to share stories.
"What?" said an incredulous Louis. "How do you mean?"
"I mean we're both alone. We've been by ourselves for too long. For years. I'm lonely. I think you might be too. I wonder if you would come and sleep in the night with me. And talk."
So that's what they do. Each night Louis takes his pajamas and toothbrush in a paper bag over to Addie's. The locals gossip, and family members meddle, but they don't care. "I don't want to live like that anymore," says Addie, "for other people, what they think, what they believe. I don't think it's the way to live."
They have better things to talk about than "these small-town small-minded pissants." The deaths of their spouses. An affair long ago. A lonely grandson. Forty-four years in the same house. Gratitude and regret, doing the best you can even when it's not good enough, and admitting that many things can't be fixed.
There's no pretense or melodrama in Haruf's characters or his prose, only simple candor. Louis, for example, remembers his forty-seven years as a "mediocre high school English teacher in a little dirt-blown town." They take Addie's grandson to the county fair, cook hot dogs around a camp fire, weed the garden, and get a mutt from the animal shelter. In Haruf's hands, this is the sacred ordinary, the most and best anyone can hope for, and which is fully satisfying when discovered.