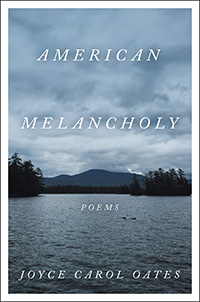 Joyce Carol Oates, American Melancholy: Poems (New York: HarperCollins, 2021), 112pp.
Joyce Carol Oates (born 1938) published her first book, a collection of short stories called By the North Gate (1963), when she was twenty-five. In the nearly sixty years since then, she has churned out a book a year, making some critics dismissive of her work and others just envious or awestruck. Most readers have encountered her prodigious output in her novels and short stories, but Oates also published eleven volumes of poetry from 1968 to 1996. American Melancholy is her first book of poetry in twenty-five years; it collects thirty poems written in the last couple of decades and previously published in places like New Yorker, New York Review of Books, Atlantic, and Paris Review.
These thirty poems explore both the personal — love, loss, memory, suffering, and the death of her husband; and the political—the Holocaust, poverty, racism, cultural conformity, and social unrest. Some of them reflect on the lives and works of certain people, like the painter Edward Hopper, the actor Marlon Brando ("in hell"), and the infamous Yale psychologist Stanley Milgram. Others are rooted in place — Germany, China, and a self-effacing poem about her down-scale hometown of Lockport, New York. If it's possible to identify a unifying theme in these thirty poems, I would suggest it is about "the effort of being human, and 'moral' and 'good'" ("Apocalypso").
Joyce Carol Oates was the Roger S. Berlind Distinguished Professor of the Humanities at Princeton University from 1978 until her retirement in 2014. She has been a member of the American Academy of Arts and Letters since 1978.
Dan Clendenin: dan@journeywithjesus.net