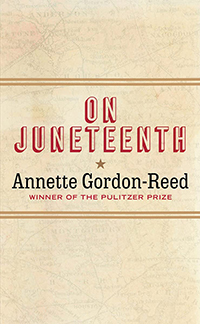 Annette Gordon-Reed, On Juneteenth (New York: Liveright, 2021), 148pp.
This book really isn't about Juneteenth — June 19, 1865, the day that enslaved blacks were told that legalized slavery had ended in Texas, two years after the Emancipation Proclamation. Nor are the six short essays anything like a chronological narrative of Texas history. Rather, Annette Gordon-Reed uses Juneteenth as a sort of prism through which to view her personal memories and historical reflections about our American origin stories, and how those stories shape us for good or ill. She brings an interesting viewpoint to that Juneteenth prism, as a native of Texas, a black woman, a descendant of slaves, a professor of history at Harvard, and winner of a Pulitzer Prize and National Book Award.
Texas is an interesting case study on origin stories. It's the largest state in the lower forty-eight. Its stereotypes include the cowboy, the rancher, the oil man, but also the slave holder. Its founding father Stephen Austin was an overt racist who intended to create a republic built on slavery. Whereas slavery ended in Texas, its origins that were based upon a racial hierarchy did not.
There's an element of the "tragic" in this, says Gordon-Reed. In fact, "no other state brings together so many disparate and defining characteristics all in one — a state that shares a border with a foreign nation, a state with a long history of disputes between Europeans and an indigenous population and between Anglo-Europeans and people of Spanish origin, a state that existed as an independent nation, that had plantation-based slavery and legalized Jim Crow." And so the Six Flags of the countries that have flown over Texas — Spain, France, Mexico, the Republic of Texas, the United States, and the Confederate States of America.
Our state and national origin stories matter, says Gordon-Reed, for individuals, groups, and nations. They help to define our self-understanding, and who we think we are. Texas is just one example of how "endlessly complicated" American origin stories are, and why it's important to live in historical reality and not just in self-justifying myths. For the record, Juneteenth became a federal holiday on June 17, 2021, when President Joe Biden signed the Juneteenth National Independence Day Act.
Dan Clendenin: dan@journeywithjesus.net