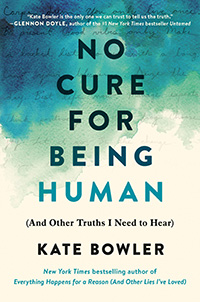 Kate Bowler, No Cure for Being Human: And Other Truths I Need to Hear (New York: Random House, 2021), 202pp.
Six years ago last month, the New York Times published an opinion piece by Kate Bowler (born 1980), a historian at Duke Divinity School, called "Death, the Prosperity Gospel, and Me" (February 13, 2016). A few months before she wrote that piece, Bowler was diagnosed with Stage IV colon cancer. She was thirty-five. Her op-ed burned up the internet, and was turned into her best-selling book Everything Happens for a Reason: And Other Lies I've Loved (New York: Random House, 2018).
Bowler has specialized in the American prosperity gospel that promises us health, wealth, and happiness. For her book Blessed: A History of the American Prosperity Gospel (Oxford, 2013), she spent ten years interviewing megachurch pastors, watching televangelists, and listening to celebrities pray for people in wheelchairs. She joined 900 tourists on a trip to Israel with Benny Hinn. Raised on the prairies of Winnipeg, Bowler observes that even some of her own famously modest Canadian Mennonites have bought into the idea that the right kind of faith leads to blessings.
The prosperity gospel tries to exert order over the chaos in our lives, to solve the mystery of human suffering, "because the opposite of #blessed is leaving a husband and a toddler behind, and people can't quite let themselves say it, 'Wow. That's awful.'" And so the prosperity gospel "offers people a guarantee: Follow these rules, and God will reward you, heal you, restore you… The prosperity gospel holds to this illusion of control until the very end," and regardless of obvious evidence to the contrary.
Bowler's new book turns from these "lies I've loved" to "truths I need to hear." And these are hard truths, hard because they contradict the many religious and secular myths that we are force fed by our culture of self-help: you can have it all, you have limitless choices, you can enjoy unlimited progress, you are the master of your destiny.
Bowler's cancer experience has taught her numerous counter-cultural truths. Nothing will ever add up to enough. Not all your problems can be conquered. Resolution and closure are overrated. Despite my "inflated expectations of invincibility," I cannot transcend my finitude. Nothing will exempt me from the pain of being human, and so every life is imperfect, unfinished, and unfinishable. In short, "there is no cure for being human," and as she writes in the last sentence of her book, "it's better this way."
Dan Clendenin: dan@journeywithjesus.net