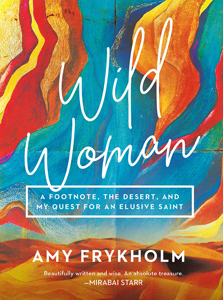 Amy Frykholm, Wild Woman: A Footnote, The Desert, and My Quest for an Elusive Saint (Minneapolis: Broadleaf Books, 2021), 217pp.
Any book by Amy Frykholm is an automatic read for me. Here at JWJ we have reviewed two of her previous works: Julian of Norwich, A Contemplative Biography (2010), and See Me Naked: Stories of Sexual Exile in American Christianity (2011). Frykholm's five books of non-fiction have covered the territory of American religion from apocalypticists to saints. She's an award winning writer and senior editor for The Christian Century, appears frequently on television and radio programs as an expert in American religion, and has lectured widely on subjects like the Rapture, purity culture, and lost female figures in Christianity. She has a PhD in Literature from Duke University.
About fifteen years ago Frykholm happened upon a book in the library that contained a story about St. Mary of Egypt. The story of this elusive saint "seemed to unearth [Frykholm's] most basic longings" and "the wild places of [her] heart." Mary, it turns out, was "sensual and ascetic, holy and unholy, connected to God but unconnected to all others, illiterate but learned." Wild Woman is a rich mix of multiple genres — personal memoir, historical retrieval, theological inquiry, Biblical reflection, and most of all a pilgrimage to connect one's inner and outer journeys.
In August of 2018 Frykholm retraced the geographic and spiritual journey of St. Mary. The three parts of her book center on Egypt, Israel, and then Palestine and Jordan. One of the most challenging and interesting aspects of her quest is that we know very little about Mary, and it might be that she didn't even exist — that the 25-page Life of Mary of Egypt, which is included as an appendix, is a myth, legend, or fictional creation by the author Sophronius (560–638), the Patriarch of Jerusalem. Frykholm thus had to struggle with what she calls the "as if."
Mary the wild woman exemplifies the deep desire in us "to create a connection between her own small life and the greater Life. Wherever Mary had been, however unlit the path, God had always been unfolding. That is, to me, one of the key messages of Mary's life: God is everywhere, always unfolding. We can look for signs and wonders because God is always seeking us… This is what it means to be on the path of the Wild Woman. You risk becoming nothing more than bones in an empty landscape. But you go in that direction because now the thought of not living the truest possible life is unbearable. The call to life is greater than the fear of death. Whatever Mary's inner guide was choosing for her, she would rather have that than any other reward." This is nothing less than the "risky business of leaving the old ways behind and taking up something new — something that darts and shimmers and lives." In the famous aphorism of Irenaeus, it is the quest to be fully alive (121, 122, 155).
Dan Clendenin: dan@journeywithjesus.net