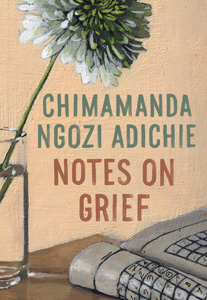 Chimamanda Ngozi Adichie, Notes on Grief (New York: Knopf, 2021), 67pp.
On June 7, 2020, the Nigerian American novelist Chimamanda Ngozi Adichie (born 1977) enjoyed her weekly ritual that has become a familiar sign of our times — a Sunday afternoon Zoom call with her family. Just three days later, her father who participated in that call back in Nigeria was dead. And so the jarring last sentence of this slender volume: "I am writing about my father in the past tense, and I cannot believe I am writing about my father in the past tense."
This was a father whom Adichie adored: "So precious was my bond with my father that I cannot lay open my suffering until I have discerned its contours." Those contours are many, for "grief is a cruel kind of education." There's the sheer physicality of grief that disrupted her sleeping and eating. She comments on the complexities of memory — some that brought joy, others that brought pain, some that she tried to forget, and still others that she could not remember. She struggles with feelings of nihilism. There are the well-intended condolences of friends that nevertheless felt presumptuous. On top of all this are "the endless roiling thoughts."
This little book originated as an essay of the same title in the New Yorker (September 2020). Adichie is best known for her novel Americanah (2013), listed by the NYT as one of the top ten books of 2013. In 2008 she was awarded a MacArthur Genius Grant. Her work has been translated into over thirty languages. Notes on Grief will take its place with other classic treatments on bereavement like CS Lewis, A Grief Observed (1961); Nicholas Wolterstorff, Lament for a Son (1987); Joan Didion, The Year of Magical Thinking (2005); and Elaine Pagels, Why Religion? A Personal Story (2018).
Dan Clendenin: dan@journeywithjesus.net