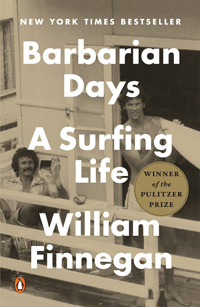 William Finnegan, Barbarian Days: A Surfing Life (New York: Penguin, 2015), 447pp.
To thine own self be true, urged Polonius in Shakespeare's Hamlet. William Finnegan rode his first wave when he was ten years old. For his eleventh birthday his dad bought him his first surf board. He was hooked, and he never looked back. Fifty years later, and having traveled the world to find the perfect waves, he surfed in the winter sleet of Long Island. Finnegan's memoir won a Pulitzer Prize in 2016 for his reflections on his lifelong obsession with surfing.
He admits that his addiction was a justifiable worry for his parents, and an obviously self-centered way of life. Early on he describes "the special brand of monomania, anti-social and ill-balanced, that a serious commitment to surfing nearly always brought with it… This was a track that led away from citizenship, in the ancient sense of the word, to a scratched-out frontier where we would live as latter-day barbarians. This was not the daydream of the happy idler. It went deeper than that. Chasing waves in a dedicated way was both profoundly egocentric and selfless, dynamic and ascetic, radical in its rejection of the values of duty and conventional achievement." At one point in his four-year junket surfing around the world, he wonders if he has wasted his life. There were times when he felt deeply lost. When he finally settled down, he opened his first bank account at the age of thirty-one.
Despite his vagabond life, it's apparent that Finnegan was always a prolific reader and writer. He always kept a journal, and finished two unpublished novels while moonlighting as a pot washer and ditch digger to support his global surfing habit. Writing travel pieces led to bigger opportunities. Teaching school in a South African township during apartheid was a baptism of fire into social justice that led to war reporting all over the world. Eventually he became a full time staff writer for the New Yorker. By the end of his story Finnegan admits that in many ways he has been domesticated. In the last sentence of the book he confesses, "I didn't want it to end."
Dan Clendenin: dan@journeywithjesus.net