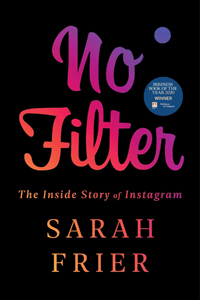 Sarah Frier, No Filter: The Inside Story of Instagram (New York: Simon and Schuster, 2020), 327pp.
In 2010 two buddies from Stanford founded a photo-sharing app called Instagram, the key feature of which were filters that enhanced your otherwise naturally inferior picture. It was like magic — instantly enhanced beauty that looked better than reality! A month after launching, Instagram had a million users, and a year later, ten million users. That caught the attention of Mark Zuckerberg of Facebook, who in 2012 paid an unheard of $1 billion to purchase Instagram, even though it was only eighteen months old and had only thirteen employees. Today, each month, more than one billion people use Instagram, and it's a primary driver of FB revenue.
There were two pre-nuptial agreements with this marriage. First, and most important to the founders Kevin Systrom and Mike Krieger, Zuckerberg promised that Instagram would not be subsumed into FB's data-driven culture that demanded growth at any cost. Rather, he agreed that Instagram would run as an autonomous company that pursued its three core values of community, simplicity, and artistic beauty. It took a while to materialize, but these antithetical corporate cultures, one that bragged about "moving fast and breaking things" and another one obsessed with beauty, were on a collision course. In 2018, Systrom and Krieger left FB deeply disillusioned.
Second, despite Instagram's noble vision of beauty, simplicity, and community, there were deep contradictions inherent in the app that similarly took a while to emerge. There's the obvious problem of self-promotional fakery. Far from a community of everyday people making beauty, Instagram also aggressively pursued a celebrity-driven business model — the five Kardashian sisters, to take just one example, have a combined one billion followers. We now know how "enhanced" photos create feelings of inadequacy, so much so that a 2017 British study named Instagram the "number one worst app for mental health for youth." Data breaches, drugs for sale, terrorist recruitment, election influencing, regulatory questions about monopoly power and free speech, live-streamed mass shootings, and all sorts of scams have raised complicated questions about Instagram's original lofty vision.
Sarah Frier has written what she calls "the definitive inside story of Instagram." Critics have agreed. No Filter was named business book of the year by the Financial Times and the consulting firm McKinsey. This is a riveting story not just about business and technology, but about broader themes in our culture like fame, the role of social media, commerce, and our deep need for human connection.
NOTE: In February 2014 Facebook acquired WhatsApp for $19.3 billion. A year later, it had become the world's most popular messaging application, and by 2020 it had over 2 billion worldwide users. From a purely business standpoint, the acquisitions of both Instagram and WhatsApp were "bargains."
Dan Clendenin: dan@journeywithjesus.net