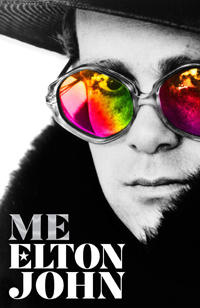 Elton John, Me (New York: Henry Holt, 2019), 374pp.
I enjoyed reading this memoir by Reginald Kenneth Dwight (born 1947) — Sir Elton John — after enjoying the movie about his life called Rocketman (2019), which movie was produced by his husband David Furnish and for which John himself was one of the executive producers. Both the book and the movie proceed along three story lines.
The first part is about the music. John writes that as a young boy he was obsessed with music, and that his childhood dream was to be a musician. At age eleven he earned a scholarship to the Royal Academy of Music, where for five years he went for lessons every Saturday. And then a couple twists of fate: after failing a music audition, a music executive handed John a random envelope of lyrics as he left—written by his close friend and collaborator of fifty years, Bernie Taupin. Then, rather against his wishes, at the age of twenty-three he did a show at the Troubador in Los Angeles, which proved to be "the night everything changed." The show shot him out of a canon and into stardom. Fast forward to the result: he and Bernie Taupin have produced 30 albums and 300 million records.
John also takes an unsparing look at the second theme, which is condensed in the very first minute of the movie. Dressed in a flamboyant orange devil suit with huge wings and horns, John walks into an AA meeting of circled chairs and announces, "My name is Elton, and I'm an alcoholic, a cocaine addict, and a sex addict. I'm bulimic. I also have problems with shopping." By repeatedly cutting back to this first scene, it's made clear that this is John's story of redemption, not just from substance abuses, but from the wounds of an emotionally distant nuclear family that did not know how to love a young gay child who was also a musical prodigy, and then aggravated by global fame, money, debauchery, and corruption when he was only twenty-five.
John writes that he laments his "absolutely dreadful behavior," how by 1974 his life had become a "personal catastrophe," "all the excess and stupidity," his egotism and narcissism. "It was shameful," he writes, "the completely unnecessary bubble that fame and wealth lets you build up around yourself, if you're stupid enough to allow it… It's a grotesque, soul-destroying environment to live in. And you created it yourself." There were three suicide attempts.
And so the third theme, of a life beyond music and debauchery. John has been sober for nearly thirty years. He writes that he's attended over 1400 AA meetings all over the world. He has raised $450 million for his HIV-AIDS foundation. And by the end of the book he is enjoying being a father to his two children with his husband David. There is redemption, but John is the first to admit that he's very lucky indeed to be alive today, and that there was a price to be paid. The truth will set you free, but not until it's finished with you.
Dan Clendenin: dan@journeywithjesus.net