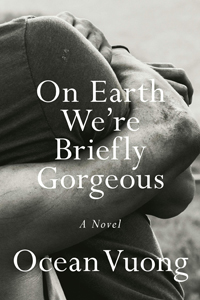 Ocean Vuong, On Earth We're Briefly Gorgeous: A Novel (New York: Penguin, 2019), 246pp.
As I write, the Vietnamese-American poet and essayist Ocean Vuong (born 1988) is only thirty-one, but his three books have already earned him a dozen literary awards that include the Pushcart Prize (2014) and a MacArthur Genius Grant (2019). This is his first novel, but it's clearly autobiographical. Vuong's grandmother was a peasant who married a white American soldier during the war. His family fled Vietnam and found their way to an apartment in Hartford, Connecticut, where he was raised by his mother (a manicurist) and grandmother. Vuong is also openly gay.
So, in his real life and in this novel there several complicated layers that Vuong explores through the narrative device of a letter from a son named Little Dog to his illiterate "Ma." Immigration is inherently complicated, but especially so when you land in a rust belt town like Hartford, where you are often assumed to be Latino: "Do I look like a real American?" asks Little Dog. He experiences abuse at home from both his mother and grandmother, and at school from redneck bullies. His grandmother Lan is schizophrenic, while his "monster" of a mother Rose works long hours stooped over in a nail salon ("aching, toxic, and underpaid"). Little Dog runs away from home when he is ten, and discovers cocaine at the age of fourteen. The family history behind all this is the long shadow of the Vietnam War. "The war is still inside you," Little Dog tells Lan.
These memories to his mother are of pain, long term trauma, and alienation. "There are so many things I want to tell you, Ma. I was once foolish enough to believe knowledge would clarify, but some things are so gauzed behind layers of syntax and semantics, behind days and hours, names forgotten, salvaged and shed, that simply knowing the wound exists does nothing to reveal it." And yet, as his book title suggests, there is beauty. At the end of his novel Little Dog tells his mother: "Yes, there was a war. Yes, we came from its epicenter. In that war, a woman gifted herself a new name — Lan — in that naming claimed herself beautiful, then made that beauty into something worth keeping. From that, a daughter was born, and from that daughter, a son. All this time I told myself we were born from war—but I was wrong, Ma. We were born from beauty. I know, Ma, this book is marked by death, by deaths. But that is only to say it is a book of life, of living."
Dan Clendenin: dan@journeywithjesus.net