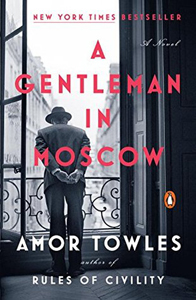 Amor Towles, A Gentleman in Moscow (New York: Viking, 2016), 480pp.
A review by Brad Keister, former Deputy Division Director of the Physics Division for the National Science Foundation.
This fictional narrative chronicles the life of a man living under house arrest at the Hotel Metropol in Moscow from 1918 to 1954. In 1913, Count Alexander Rostov wrote a poem with revolutionary sympathies. As the new regime settled into power, by Rostov's own reckoning, he would have been rounded up with other aristocrats and shot, but because of the poem, he was simply placed under house arrest at the hotel, where he remained half-forgotten for thirty-two years of Soviet history. He accepted this lot, and attempted to make the most of it, taking on a servant's role in the hotel dining room, yet always with the dignity with which he was raised. In this position, he had the opportunity to see everyone who passed through the hotel, including military officers, low- and high-level bureaucrats, and Western reporters and diplomats. He cultivated friendships with many of them, who in turn sought him out each time they returned to the Metropol, frequently seeking his advice. While never leaving the hotel, Count Rostov had surprising access to the world. There were deeper relationships as well, eventually testing his courage and resolve.
Most of the characters in this novel are fictional, but the iconic Hotel Metropol is in operation to this day in Moscow, and the book includes some real historic events which took place there. One could argue whether the premise of the book could really play out this way, but it's a compelling lesson about the deep rewards of noticing people, learning about them over time, and extending courtesy to them, even under constrained circumstances. So, perhaps it's no surprise that it became a best seller, was chosen by Bill Gates as a top pick, and later made into a television series.
Dan Clendenin: dan@journeywithjesus.net