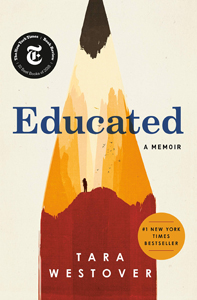 Tara Westover, Educated: A Memoir (New York: Random House, 2018), 334pp.
When Tara Westover's memoir was released in February of 2018, it debuted at #1 on the New York Times best seller list. Since then it has remained on just about every top-ten list in existence, won numerous awards, and received effusive recommendations from the likes of Bill Gates and former President Obama. It's also being translated into over thirty languages.
Westover was born at home in 1986 in the mountains of rural Idaho to a survivalist family of nine (seven kids), although her exact birthday isn't clear because she never had a birth certificate until she was nine. She never visited a doctor, had a driver's license, or been in a school classroom until she was seventeen. That was because her father was preparing for the Days of Abomination. He buried a thousand-gallon fuel tank in their yard, hoarded Meals Ready-to-Eat, and stock-piled more than a dozen military-surplus rifles. He insisted that Tara study Morse Code. In his view, the government, public schools, the medical establishment, radio, television, a telephone, car insurance and even milk were all sinful. Years later, when Westover confronted her parents about the physical and psychological abuse that she suffered from an older brother, they said she was under the spell of satan and disowned her.
When her brother Tyler broke free from this domestic dystopia and went to college, a seed was planted. The bulk of the memoir tells how Westover worked her way into Brigham Young University, Cambridge in England, and then Harvard. Today she is a Senior Research Fellow at the Harvard Kennedy School Shorenstein Center, working on projects related to media and political polarization.
In some ways this is an inspiring story, but my overall feeling at the end of the book was one of Heavy Sadness. I find it hard to fathom what she experienced, and wonder how much any normal human being can recover from such prolonged traumas. On the last page of the book Westover says that today she is a "new and changed" person. "You could call this [new] selfhood many things. Transformation. Metamorphosis. Falsity. Betrayal. I call it an education."
Dan Clendenin: dan@journeywithjesus.net