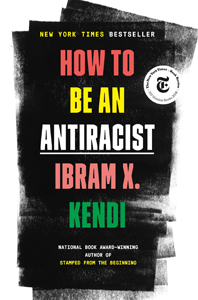 Ibram X. Kendi, How to Be an Antiracist (New York: One World, 2019), 305pp.
Ibram Kendi's previous book, Stamped from the Beginning (2016), was a sweeping intellectual history of racist ideas throughout American history. The book made Kendi (born 1982) the youngest person ever to win a National Book Award for nonfiction, and one of the most important scholarly voices on race in the United States. It also propelled him to become the founding director of Boston University's Center for Antiracist Research in the summer of 2020 (which work he had started at American University).
How to Be an Antiracist builds upon Kendi's first book about the intellectual ideas of other people, but supplements that with a sustained introspective narrative of his own life journey, and in particular his gradual awakening to and efforts to overcome his own racism. The book begins when he was seventeen and gave a speech about MLK that at the time he thought was radical, but that he now views as an excellent example of having internalized the racist ideas in our culture. He then circles back to the third grade, and successive racist experiences throughout his different schools. By the end of the book he has finished grad school, but not before multiple conversions in the "intersectionality" of ethnic racism with bodily racism, cultural racism, color racism, class racism, gender racism, and queer racism.
In Kendi's view, our biggest mistake is to shame-n-blame people, whereas the real problems with racism revolve around power and policies. We cannot educate or persuade or argue people out of racism. Similarly, we wrongly conflate a single individual with stereotypes about a larger group. Central to his outlook is a threefold typology that he articulates at length in his first book — of segregationists, assimilationists, and then antiracists. For Kendi, there is no middle ground; either you are actively antiracist, and not merely "not racist," or you are, in fact, racist in some sense.
The "good news," says Kendi, is that "racist and antiracist are not fixed identities." That is, we can all change. Another way to say this is that overcoming racism, whether personal or cultural, will be an ongoing struggle that is never finished. Although Kendi argues forcefully for the antiracist position as the only viable option, he's also careful in his book Stamped to say that he does not see a "singular historical force arriving at a post racial America. I did not see a singular historical force becoming more covert and implicit over time. I did not see a singular historical force taking steps forward and backward on race. I saw two distinct historical forces. I saw a dual and dueling history of racial progress and the simultaneous progression of racism." The racial progress of Obama and the racist progress of Trump embody what he calls our country's never-ending "dueling duality."
Dan Clendenin: dan@journeywithjesus.net