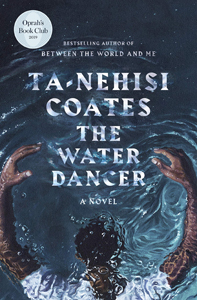 Ta-Nehisi Coates, The Water Dancer: A Novel (New York: One World, 2019), 403pp.
Ta-Nehisi Coates (born 1975) is best known for his book Between the World and Me (2015), which won the 2015 National Book Award for Nonfiction, and was a finalist for the 2016 Pulitzer Prize for General Nonfiction. Two months after its release in July of 2015, Coates won a MacArthur "Genius Grant." The book is a 152-page letter to his 15-year-old son Samori that describes how "racist violence has been woven into American culture."
Coates has now turned to fiction to explore the violent history of American slavery. When The Water Dancer was published in September 2019, it debuted as the #1 fiction book for the NYT, and was selected by Oprah for her Book Club ("One of the best books I have ever read in my entire life. Right up there in the Top 5.").
The protagonist-narrator is a young man named Hiram Walker, who was born into bondage on a declining tobacco plantation in Virginia during the pre-Civil War years. And since there will be many shades of gray in this novel, it's fitting that his mother is a black slave and his father is the white owner of the plantation. At the age of nine Hiram was "put to work like a man." He has a prodigious memory, and is clearly gifted, but what really sets him apart is his mystical power called Conduction that transports him across times and places. So, The Water Dancer is a mixed genre novel that is part historical fiction and part magical realism.
Whether this mixed genre works as a narrative device is debatable. Nonetheless, the two genres converge around what Coates calls "the awesome power of memory." Whatever else this novel is about, it's about remembering. But memory is painful and complex. To forget is death, but there is also an active type of forgetting that for some people is necessary for survival. Sometimes rage is the most honest emotion. Despite his photographic memory, Hiram cannot remember his mother Rose, who was sold by his father (!) before he was old enough to remember her, but he hears the stories about her, and throughout the novel he tries to reconnect with his mother through Conduction, which is activated by memories. When he is in jail, and trying to reconstruct events, he realizes that telling the story "really was my greatest power."
So, however complicated and painful the memories, we must tell the horrific stories of slavery. Of how it separated families. Of the sadistic brutalities, degradations, and endless humiliations. Of how power blinds, and turns masters into slaves of their own debaucheries, even while that power is a grotesque lie. Of the (false) guilt of failing to help loved ones even when that's an impossible Sophie's Choice. Of the madness that resides in deep grief. Of bad people who are good, and good people who are bad. Of uncertain loyalties even among friends and family. We must tell these slave stories, says Coates, but somehow "not be ensnared by them." When Hiram meets Harriet Tubman on the Underground Railroad, she tells him, "To remember, friend. For memory is the chariot, and memory is the way, and memory is bridge from the curse of slavery to the boon of freedom."
Dan Clendenin: dan@journeywithjesus.net