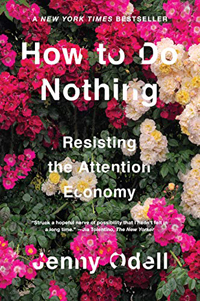 Jenny Odell, How to Do Nothing: Resisting the Attention Economy (Brooklyn: Melville House, 2019), 232pp.
Jenny Odell is an artist-writer who was born and raised in Cupertino, home to Apple's futuristic campus. She's also a graduate of Berkeley and a lecturer at Stanford. So, she's well-placed to offer a counter narrative to the technological paradigm in which we all now live. In our technological society that is an increasingly closed system, we are the product, not the customer (advertisers are the customers). In exchange for free stuff, we forfeit massive amounts of big data about ourselves, which companies turn into sophisticated algorithms to manipulate us. And mass behavioral addiction is not an unfortunate consequence of internet "engagement," it's the carefully crafted business model of the digital giants.
What to do? As her title suggests, Odell challenges us to disengage from this all-consuming "attention economy" through doing nothing, and that in turn we re-engage with any number of habits that are far more healthy and human. By "doing nothing," what she really means is something similar to what many others have recommended — mindfulness, solitude, silence, awareness, attention, contemplation, and interiority. She's not recommending that we retreat from and renounce the world, which in her view is irresponsible, misguided, and impractical if not impossible. "For me," she writes, "doing nothing means disengaging from one framework (the attention economy) not only to give myself time to think, but to do something else in another framework" (179). She also calls this "refusal-in-place." The challenge is to avoid both conformity and withdrawal.
Odell has written something like an intellectual manifesto that draws upon an impressively broad diversity of thinkers — technologists (Jaron Lanier), poets (Wendell Berry), dissenters (Thoreau), musicians (John Cage), novelists (David Foster Wallace), philosophers (Cicero, Buber), artists (David Hockney), psychologists (William James), theologians (Jonathan Edwards, Merton), and scientists (Linnaeus). The book is also written in the first person, like a contemporary memoir, and so she also includes dozens of personal anecdotes about disengaging from the technological system and re-engaging the world in healthier ways.
For more on these important themes, see Akiko Busch, How to Disappear: Notes on Invisibility in a Time of Transparency (2019); Adam Alter, Irresistible: The Rise of Addictive Technology and the Business of Keeping us Hooked (2017); Erling Kagge, Silence in the Age of Noise (2017); Jaron Lanier, Ten Arguments for Deleting Your Social Media Accounts Right Now(2018); Cal Newport, Digital Minimalism: Choosing a Focused Life in a Noisy World (2019); and Sherry Turkle, Reclaiming Conversation; The Power of Talk in a Digital Age (New York: Penguin Press, 2015).
Dan Clendenin: dan@journeywithjesus.net