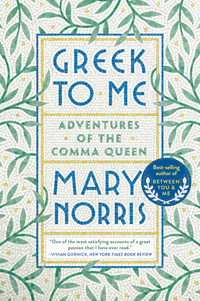 Mary Norris, Greek to Me: Adventures of the Comma Queen (New York: W.W. Norton, 2019), 227pp.
When I found Greek to Me at our public library, it was an automatic read for me, based upon how much I enjoyed Mary Norris's earlier memoir called Between You and Me; Confessions of a Comma Queen (2015). In that earlier volume, Norris describes how she worked a number of jobs before she found her true calling. She was a foot checker at a swimming pool, a milk truck driver, a cheese factory worker, a dish washer, and a cashier. But in 1978 she was hired at The New Yorker magazine for an entry level position. "That was more than thirty-five years ago," she reminisces, and "I have never seriously considered doing anything else." But if copy-editing was her calling, Greek has always been her love.
Norris is wise, winsome, and flat out funny. She once referred to herself as a "pencil prima donna." Consider the first page of this newest memoir about how she became a lover of all things Greek: "I don't know what gave me the idea that I was good at foreign languages. I was an indifferent student of French in high school, though I longed to study at the Sorbonne instead of on the banks of the Cuyahoga" (she grew up in Cleveland). For about forty years now, Norris has made studying the Greek language, history, and culture a passionate avocation.
As an "alphabetophile," she traces the history of writing back to 11th-century BC Phoenicia. There are the obvious forays into Greek mythology and tragedy. She describes her struggles to learn this "dead" language that is still very much alive, and laughs at her many mistakes. She once asked a street vendor for a donkey (yáidaros) instead of some yogurt (yiaoúrti). At Easter she mixed up her adverbs, and instead of repeating the liturgical affirmation, "Christ is risen indeed!" she said, "Really? He is?"
Much of this memoir reads like a travelogue. Norris has traveled extensively in Greece across the last four decades, and thus her reflections on her experiences in Orthodox monasteries, the Parthenon (and its replica in Nashville!), the Baths of Aphrodite, etc. Her book made me want to go to Greece!
Dan Clendenin: dan@journeywithjesus.net