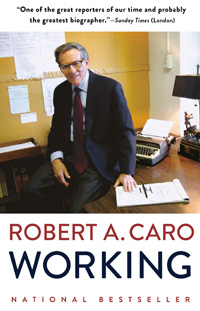 Robert A. Caro, Working: Researching, Interviewing, Writing (New York: Knopf, 2019), 207pp.
This slender memoir easily makes my "best books of the year" list. I couldn't put it down. Robert Caro (born 1935) is widely acknowledged as the most important political biographer of our times, and for fifty years he has proven himself to be so much more — a brilliant historian, an indefatigable investigative journalist, and master story-teller. His dozens of awards include two Pulitzer Prizes, two National Book Awards, three National Book Critics Circle Awards, and the National Humanities Medal. His distinguished career rests upon just two biographies —The Power Broker (1974), about the New York City urban planner Robert Moses, and his five-volume biography The Years of Lyndon Johnson (1982 to present).
What has fascinated Caro for fifty years, and is the common theme in both biographies, is the nature of political power. And not just theoretical power in the abstract, like he learned at Princeton and Harvard in complicated equations on a blackboard, but rather "the raw, naked essence of such power." He wanted to find out "how things really worked."
How, for example, did Robert Moses wield far more power than any mayor or governor even though he was never elected to any office or post? How did he design and implement his far-reaching vision for so much of New York City urban planning — its bridges, parks, expressways, etc.? And what were the consequences of this use of naked power on the powerless, like the 250,000 poor people displaced by a Moses project that refused to move a highway design even one tenth of a mile in order to protect the interests of the rich? President Johnson provided a national case study of the nature of political power that was used for great good, like civil rights legislation, but that also resulted in catastrophic failures like Vietnam.
The fourteen chapters in this book contain both older and newer pieces. In them Caro describes how he works and writes. For the Moses biography, he did 522 interviews, for the Johnson ones he lost count ("thousands"). To truly understand Johnson, Caro the New York Jew moved his family to dusty west Texas, where the president grew up in grinding poverty. Nor was Caro interested in mere facts. These essays explain his passion for story-telling that draws the reader into a palpable sense of time, place, and mood of the events he describes And behind all this erudition and intellectual passion is a man who is both hilarious and self-effacing.
Dan Clendenin: dan@journeywithjesus.net