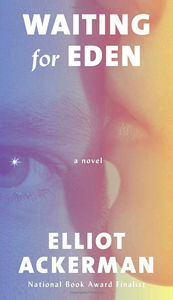 Elliot Ackerman, Waiting for Eden: A Novel (New York: Knopf, 2018), 173pp.
On the first page of this novella we learn that the unnamed narrator is dead, and that he considers himself the lucky one. That's because his combat buddy and best friend from back home, Eden Malcom, took the brunt of an explosion when their Humvee hit an IED in Iraq. Eden barely survived, if you can call it that, and has spent three years in a burn unit back home in San Antonio. The third character in the book is Eden's wife Mary. She was pregnant with their first child when he entered the hospital, and has not left his side those three years. These three characters, then, each exist in a different state of knowingness.
Eden is a paraplegic, deaf, blind, and severely brain injured. His emaciated body, what's left of it, has wasted away to seventy pounds. Yes, he has vital signs, Mary observes, but "she didn't know if you could call what was in that room a person. Not alive, not dead, what it was didn't have a name." Mary's mother urges her to "let him go." She remains deeply ambivalent.
Although no one could know this, because he cannot communicate, Eden has terrifying nightmares, but also some healing dreams. When Mary returned home for the Christmas holidays, in some undefined way he "came awake." He struggles with profound despair: "Dear God just let them know that I'm in here just let them know I want to end this let them know let them know please God."
The title of the book comes from one of Eden's dreams, when he is in a place of whiteness with his narrator-friend. "All this is easiest on us," he tells his friend. "What Mary has gone through is worse than what you or I have. We may have burned and bled, but we were never asked to wait. She's waited, they all have. They're trapped by us and they wait." Any Eden of innocence is far, far away in this story of memory, identity, loyalty, and the suffering of war.
Elliot Ackerman's novel Dark at the Crossing (2017) was a finalist for the National Book Award. He's a former White House Fellow and Marine, having served five tours of duty in Iraq and Afghanistan, where he received the Silver Star, the Bronze Star for Valor and the Purple Heart.
Dan Clendenin: dan@journeywithjesus.net