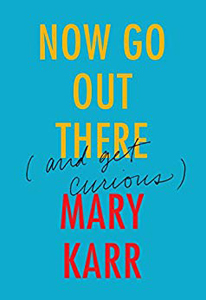 Mary Karr, Now Go Out There: (and Get Curious) (New York: HarperCollins, 2016), 112pp.
This little volume isn't a book in the normal sense of the word. Rather, it's Mary Karr's speech to the 2015 graduating class of Syracuse University, where she has taught for twenty-five years (and was awarded an honorary doctorate). The speech later burned up the Twittersphere. I think of this little gem as a counter-intuitive secular sermon full of wise advice.
Karr drops all pretense of formality, and instead addresses the graduates with her trademark humor, her Texas drawl, and especially her own story: "My goal in high school was to stay out of the penitentiary, so if I can go from there to standing up here, y'all can all get yourselves gainful employment of some kind. Yes, those are your parents clapping."
Beyond the irony, Karr explores the themes of fear and anxiety, those times "when the world scares you with its barks and bites." She knows what she's talking about. In three best-selling memoirs, Karr has described growing up with a psychotic mother who packed a pistol, nearly drank herself to death, wielded a butcher knife at her two children, and married seven times. The Liars' Club (1995) covered her childhood days in a small town near Port Arthur, Texas, and then Cherry (2000) treated her adolescent years. In an interview with the New York Times, Karr describes her third volume, Lit (2009), as "my journey from black belt sinner and lifelong agnostic to unlikely Catholic."
There was a drink-n-drug fueled period in California after high school, and then two years in college before she dropped out, but which also included a professor who, in the mysteries of fate, became a lifelong force for good. An improbable marriage to a man who was her polar opposite (mega-wealthy Boston Brahmin) lasted eight years and produced a son, but divorce, penury, endless therapy, repeated relapses, and hospitalization in a psychiatric ward for "persistent suicide ideation" all followed.
And so she describes herself as a lifelong "squeaker" just getting by as opposed to an "A-Maker." She wonders aloud: "Was all this good for me or bad for me?" Our hard times, she believes, can lead us not just to a break down but to a break through, especially if they lead us to greater compassion and tenderness, for others and for ourselves. That sounds a lot like Romans 8:28–29.