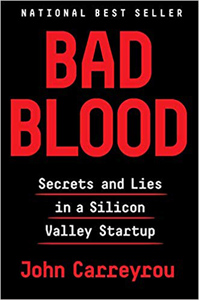 John Carreyrou, Bad Blood: Secrets and Lies in a Silicon Valley Startup (New York: Knopf, 2018), 339pp.
The summer after her freshman year in college at Stanford, Elizabeth Holmes banged out a twenty-six page business plan to radically revolutionize diagnostic blood testing. In 2003, at the age of nineteen, she dropped out of Stanford and founded a company called Theranos.
She assembled an all-star cast of investors like Rupert Murdoch ($125 million), Walgreens ($140 million), and Safeway ($350 million), and a board of directors that included George Schultz, Henry Kissinger, and former senators Sam Nunn and Bill Frist. By 2014 Theranos employed 800 people, it occupied a sprawling and brand new campus in Palo Alto, and was valued at a staggering $10 billion. Holmes was worth $4.5 billion. A cover story by Forbes magazine in the fall of 2014 vaulted her to instant stardom. Her security team expanded to twenty people, and henceforth she flew on a private Gulfstream jet.
Thanks to John Carreyrou, a chance tip from a pathologist in Missouri, and especially to some very brave Theranos whistleblowers who faced intimidating legal threats, we now know that Theranos was a complete sham. Carreyrou, who has won two Pulitzer Prizes as an investigative reporter for the Wall Street Journal, published a devastating and meticulously documented article on October 15, 2015 that revealed the true nature of this Potemkin Village (along with dozens of followup articles). His book, based upon interviews with more than 150 people, including more than 60 former employees of Theranos, covers the entire 15-year history of this sordid story.
In September 2018, Theranos dissolved as a company and no longer exists. There has been a tsunami of lawsuits. Holmes' net worth is zero. Nearly a million test results had to be voided. Charged with a "massive fraud," she settled with the SEC in 2018. She still faces criminal charges of fraud from a federal grand jury indictment in June of 2018. In the last few pages of his book, Carreyrou wonders aloud how all this could have happened, and to what extent Holmes might be not just a brazen liar and megalomaniac but a certified sociopath. The word on the street is that she feels unjustly persecuted, and that she's pitching investors with her latest ideas about a new company.