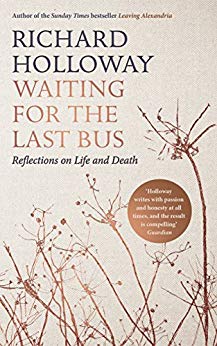 Richard Holloway, Waiting for the Last Bus; Reflections on Life and Death (Edinburgh: Canongate, 2018), 165pp.
Richard Holloway (born 1933) is the former Bishop of Edinburgh and Primus of the Scottish Episcopal Church. He's written about 30 books in the last 40 years, most notably an award-winning memoir called Leaving Alexandria: A Memoir of Faith and Doubt (2012) in which he discusses his loss of Christian faith. The outspoken and controversial cleric has described himself as an agnostic "after-religionist." Holloway has also written for a number of prominent newspapers, and is a regular on BBC radio and television. This little book originated as a series of "broadcast essays" on BBC Radio 4.
In these reflections on death and dying, Holloway is at his best when he draws upon his own personal experiences and his pastoral anecdotes — the death of a child, the funeral for a life that was not well-lived, a spouse who cannot move beyond the paralysis of grief, etc. One of the healthiest things we can do, he suggests, is to move beyond the many cultural denials of death and accept it as our natural end rather than a "lost battle." We should let the past go, cultivate gratitude for the beauty of what is, and learn the art of self-examination with as much candor and compassion as we can muster.
Holloway himself seems to be an annihilationist, that is, after death there is only the "absolute cessation" of life. "I neither desire nor expect life after death," he says. In his view, "We don't even know if the show has an author." He admits that his own view invites troubling questions not only about the cessation of one's own life but also of the entire universe that generated it in the first place. He even says that he continues to "think of myself as a religious man." Yes, he admits that this position irritates both atheists and believers. His only response to living in this murky middle of a mystery is to reject binary, black-white thinking, and to "get over it."
Holloway seems to enjoy his notoriety a bit too much. But he's a reflective and observant person who draws upon a broad diversity of sources — art, poetry, painting, music, history, philosophy, and the complexities and nuances of the human experience. I enjoyed his last book, A Little History of Religion (Yale, 2016). Just don't expect any affirmation of the central Christian confession that Christ "conquered death" (2 Timothy 1:10).