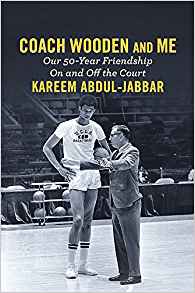 Kareem Abdul-Jabbar, Coach Wooden and Me: Our 50-Year Friendship On and Off the Court (New York: Grand Central Publishing, 2017), 290pp.
When I was a kid in high school, one of the most powerful sports dynasties ever dominated the national stage. Under the direction of Coach John Wooden (1910–2010), UCLA's basketball team won ten national championships in twelve years, seven of them in consecutive years. During that period they also won a record 88-games in a row. Much of that success was due to Wooden's legendary coaching genius, but it also included a seven-foot-two-inch teenager named Lew Alcindor, who at the age of twenty-four converted to Islam and changed his name to Kareem Abdul-Jabbar (a decision he never regretted), then went on to become the NBA's all-time leading scorer.
This memoir will appeal to sports buffs, but it's also inherently interesting for two reasons. Wooden and Jabbar were the ultimate odd couple that across the decades developed a deep friendship of mutual respect. The coach was a white farm boy from rural Indiana, a devout Christian with old-fashioned ideals, who married his high school sweetheart Nellie and never even dated anyone else. The player was a black kid from New York City who loved jazz, converted to Islam, and was a social activist in racial politics (in 1968 he refused to join the US Olympic basketball team). By the time that Wooden died at the age of ninety-nine, Jabbar was virtually part of his family.
Wooden was also famous for caring more about character than about winning. In coaching he wanted to make better people and not just better players. Preparing well, regardless of the outcome, was his mantra. He never got too high with success or too low in defeat. In good Midwestern fashion, he exuded modesty and humility. Jabbar says that he never heard Wooden utter an unkind word to or about anyone. He made sure that his players understood that life was far bigger than basketball. This was most fully articulated in his famous and now quaint-sounding Pyramid for Success.
I appreciated this memoir for how it puts our own sports-obsessed culture into a much larger and healthier perspective. When President Obama bestowed the Presidential Medal of Freedom (our country's highest civilian award) on Jabbar in 2016, he said that it was Coach Wooden who, more than anyone else in his life, was responsible for his success both on and off the court.