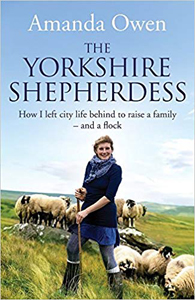 Amanda Owen, The Yorkshire Shepherdess (London: Sidgwick and Jackson, 2014), 308pp.
Last summer my wife and I hiked the 200-mile "Wainwright Coast to Coast" trail in northern England. The C2C begins on the Irish Sea in the tiny village of St. Bees, proceeds eastward through three national parks, and finishes on the North Sea at Robin Hood's Bay. We especially enjoyed the Yorkshire Dales, which are famous for its thousands of sheep (and sheep dogs that work them), endless miles of dry stack walls (no mortar) that are centuries old and carve up the lush green landscape into a picturesque checkerboard, and the wild, windy, and treeless moors with their mucky peat bogs. Parts of these dales are remote and harsh places to live, much less to make a living.
But that's just what Amanda Owen and her family have done. In this memoir and the subsequent volume called A Year in the Life of the Yorkshire Shepherdess (2017), Owen tells how she and her husband Clive, along with their nine children, left city life behind in order to live on an isolated farm called Ravenseat and raise Swaledale sheep that are indigenous to the region. Both books have been best sellers and made Owen an unlikely media rock star in England. As it so happens, the C2C trail passes right through their back yard, and part of her lore, which we experienced, is serving homemade scones to weary hikers in one of their dilapidated barns.
Ravenseat Farm is a desolate and bleak place. The work is relentless. The summers are short and the winters are long. The weather can be wicked. Their farmhouse that dates back to 1580 depends on an indoor open fire. There is no mobile phone coverage in the area. Nonetheless, for Owen, it is "the most beautiful place on earth." She has never regretted her decision to live and work there. She has a life that she loves. "We know, Clive and me, that we are temporary custodians, that the place went on for centuries before us and will go on for centuries after us. Looking down on the farmhouse from up on the hills gives me a feeling of timelessness, of the smallness of my part in the ongoing history of this amazing place."