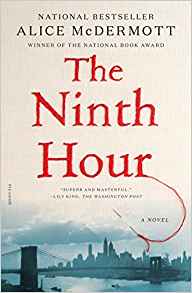 Alice McDermott, The Ninth Hour: A Novel (New York: Farrar, Straus and Giroux, 2017), 247pp.
Alice McDermott's eighth novel is set in the tenement housing of Irish Catholic Brooklyn at the turn of the twentieth century — which is to say, a place much like where she was born, raised, and attended Catholic schools. To be more exact, most of the novel takes place in the convent of the Little Nursing Sisters of the Sick Poor, and thus the liturgical reference of the book title. In any number of interviews, McDermott has spoken openly and at length about her own Catholic faith (see below). "I love the gifts of the church," she has said, "and am constantly dismayed by its failings."
In the late afternoon of a dark and dank February 3 —"was there a moment of the year better suited to despair?", a young husband named Jim, age thirty-two, barricaded himself in his apartment, turned on the gas tap to the oven, then carried the rubber tubing into his bedroom and began to suck on the hose. Two weeks earlier, he had been fired from his job for "unreliability and insubordination." In addition to killing Jim, the gas also ignited a fire that raged through the small apartment. Left behind to fend for herself was his pregnant wife Annie.
This being Catholic Brooklyn of an earlier time, Annie is rightly worried whether the church, with all its rules and regulations, will allow Jim to receive a proper burial since he committed suicide. By mere chance or divine providence (take your pick), an aged and irreverent nun named Sister St. Savior happened by the apartment at just the right time, and intervened to help Annie, beginning with a proper burial for Jim. She also introduced her to the convent, where Annie and her newborn baby (who is named after Sister St. Savior) find refuge.
It is in the convent, among the other nuns who exude a gritty sort of grace, that Annie experiences the mercy, kindness, and help to continue life in the midst of tragedy. There is Sister Illuminata, in charge of the basement laundry, where Annie is given work. There is Sister Lucy, insistent, humorless, and severe, a person for whom "all joy was thin ice." Sister Jeanne believed that "all human loss would be redeemed." Ours is an unfair world with unanswered prayers. This is an imperfect Catholic Church, and an imperfect convent of sisters, but it is nonetheless a place that mediates the loving care of a good God. The novel reminded me of the Spanish mystic and Catholic saint Teresa of Avila, who once said that "God is found in the pots and pans."
Today Alice McDermott (born 1953) is the Richard A. Macksey Professor of Humanities at Johns Hopkins University. Her 1998 novel Charming Billy won the National Book Award, and her other novels have been finalists for a Pulitzer Prize. For one interview with McDermott, see Image Journal (Issue 52), by Paul Contino:
https://imagejournal.org/article/conversation-alice-mcdermott/