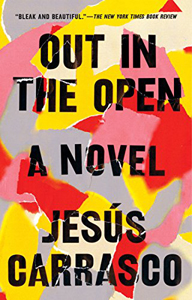 Jesús Carrasco, translated from the Spanish by Margaret Jull Costa, Out in the Open: A Novel (New York: Riverhead Books, 2017), 226pp.
This terrifying novel opens with a young boy on the run. "Forced to flee," we meet him curled up and hiding inside a hole in the ground in an olive grove. He's being pursued by a search party of malevolent men from his local village, although only bit by bit do we learn how "he caused an incident" and his family betrayed him. At night he has horrible dreams about what happened. He still wasn't far from his village, although it was further than he had ever been in that "unknown territory."
That territory was an unforgiving, desolate, and arid plain. A pitiless sun made walking by day almost impossible. Water was scarce, and food even more so. Much of the novel describes the arduous efforts that were required merely to survive. But the boy had to leave and was glad to be gone, whatever fate the hostile environment dealt him. He only wondered "if he would ever be capable of forgiving."
That question asked early on assumes an added burden when the boy meets a disheveled goat herder, who is a man of few words and significant desert wisdom, who reads his Bible, and becomes a sort of Christ figure to the boy. They take refuge in an abandoned castle, then meet a suspicious crippled amputee who offers them food. Like a steady and ominous drum beat, there is also the sadistic bailiff and his henchmen.
Neither the country, the village, nor any of the characters are named in this novel. Rather, what's at stake here for "the boy" and for us are the universal themes of unjust suffering, human depravity, and the possibility of forgiveness. In the final paragraph of the book there is the "extraordinary spectacle" of rain in the desert, as if "God temporarily slackened the screws on his torment." This debut novel by the Spanish writer Carrasco has won numerous awards and been translated into over twenty-five languages.