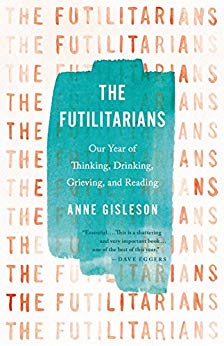 Anne Gisleson, The Futilitarians: Our Year of Thinking, Drinking, Grieving, and Reading (New York: Little, Brown and Company, 2017), 260pp.
After she fled her hometown of New Orleans after Hurricane Katrina, when her father died of cancer, and then her identical twin sisters both committed suicide eighteen months apart, Anne Gislemon wondered, "How do we keep moving forward? How do you negotiate grief and disaster?" Her new husband had his own traumas. Brad's previous partner had died the year before at the age of thirty-three from a brain tumor, leaving him alone to raise their three-year-old son.
For Gisleson, you keep moving forward by doing it together. She gathered some friends in post-Katrina New Orleans "for whom flux was the norm," who were all in some way "in the glum roles of middle age discontent," that "age bracket with its throbbing ambivalence and urgent doubt." They were an eclectic bunch — an artist, a plumber, a carpenter, a professor, a painter, etc. And so at the Hot Wok Buffet in a suburban strip mall, they started the Existential Crisis Reading Group.
The ECRG met on the last Thursday of every month, fueled by food and drink, but especially by food for the soul and the spirit. Their first readings were from Epicurus and Ecclesiastes. There was a piece by Arthur Koestler that contrasted life on the Tragic and the Trivial planes, and offerings from Tolstoy and John Cheever. One week was devoted to poetry. My favorite month was April, when in the deeply Catholic city they re-enacted the Via Dolorosa, except they called it the Stations of the Crisis. Yes, she admits, their enterprise sounds pretentious, perhaps goofy, and in one aside she jokes that they were "sounding French."
At the end of the year, the Futilitarians, as they called themselves, decided to keep on keeping on. Whether you warm up to any given monthly reading or not, the ECRG embodies an important message for us all, that of "seeking comfort in community." The novelist Dave Eggers touts this as a "shattering and very important book, one of the best of the year."