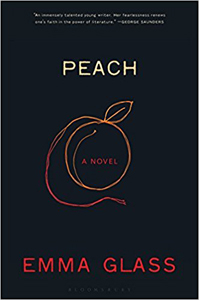 Emma Glass, Peach: A Novel (New York: Bloomsbury, 2018), 98pp.
This debut novel by Emma Glass opens when the protagonist-narrator Peach, a college student, staggers home one night after she has been violently raped. Her clothing is ripped. Her eyelids are swollen. She spits blood from her mouth. Her knuckles are scraped. She's sick to her stomach, she fears she might be pregnant, and she can't forget the smells of her attacker's "charcoal breath clinging to my skin."
And so begins the horrible psycho-somatic challenge faced by every such victim — how to deal with the physical pain, the psychological trauma, and the vivid memories. This is where Glass's staccato and stream of consciousness style, full of alliteration and word play, works so well. "I should forget. I will forget. I pinch my cheeks and sigh. I will try… Let's pretend this never happened. I don't want to be a victim. One of those victims. I'm a strong, solid person."
On the other hand, she doesn't want to forget, nor can she. She wants to tell her boyfriend Green what happened: "I should tell him. I wish I could tell him. I want to tell him." But she doesn't. Forgetting the event becomes easier when her parents are oblivious to what happened when she gets home (they are too self-obsessed), but it gets harder when she receives letters from her attacker — he knows her name and where she lives. And so Peach becomes paranoid: "I'm so scared." Fear, rage, and hatred are "ingrained in my brain when I shut my eyes."
By the end of the novel, what started as a horrific attack ends up as a gruesome horror story of the worst sort of human transgression. There is a "flurry of violence." Worst of all, and despite what she experienced, Peach says that she has no regrets, that she is even proud of how she responded. Emma Glass completed the manuscript for this novella before the #metoo movement, but she's nonetheless written a story for our particular Zeitgeist.