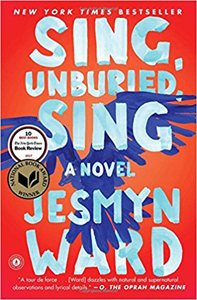 Jesmyn Ward, Sing, Unburied, Sing: A Novel (New York: Scribner, 2017), 289pp.
Jesmyn Ward's newest novel is set in remote Mississippi, where cell phone coverage is sketchy, home remedies are still used, a murder is construed as a "hunting accident," and where the troubled ghosts of its racist history haunt a family. A thirteen-year-old boy named Jojo begins the story by noting that it's his birthday, but that "there is no happiness here." That's an understatement.
Jojo is the chief caregiver to his three-year-old sister Kayla. That's because his black mother Leonie, who never finished high school, "is mostly gone," and "more gone than here," working the night shift at a backwoods bar and snorting meth. His white father Michael has just been released from three years in the Parchman prison, but that fills Jojo with dread rather than any happiness. It's no wonder that he distances himself from his parents by using their first names. Michael's racist father, Big Joseph, is "the man who ain't once" ever said Jojo's name or even spoken to Leonie. Leonie's mother is dying of cancer in the house. Amidst all this pain and sorrow is Jojo's grandfather Pop, who is a force for good and love, and who long ago also did time in Parchman.
"Sometimes the world don't give you what you need," observes Leonie, "no matter how hard you look. Sometimes it withholds." In one drug addled dream she imagines being marooned in a deflating raft, sharks circling her entire family. She's trying to save everybody, but she realizes that she is failing them: "We are all drowning." In the words of one of the two ghosts that haunts this beleaguered family, "watching this family grabs me inside, twists, and pulls tight. It hurts. It hurts so much I can't look at it, so I don't."
Ward's novel won her a second National Book Award for fiction, in addition to Salvage the Bones from 2011. Both Time Magazine and the New York Times listed Sing, Unburied, Sing as one of the top ten books of 2017.